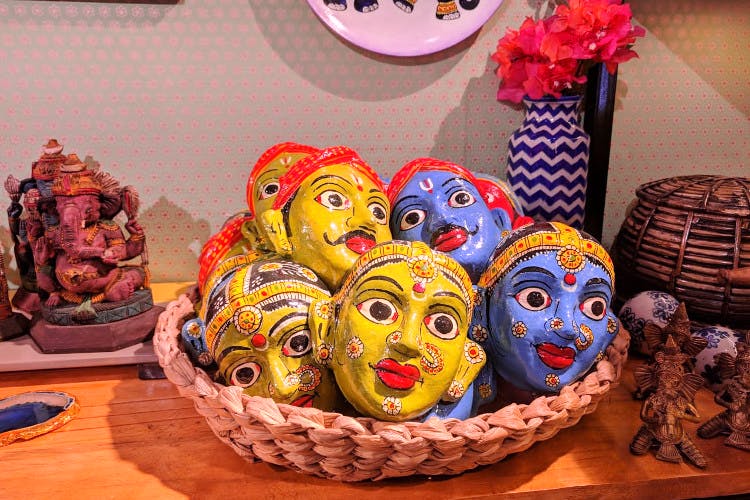 Doing Up Your Home? Pop Goes Our Heart For These Decor Stores
Whether you're moving to a new apartment, or are thinking of ways to glam up your basic hostel room, here's a list of home decor stores that will make your room Pinterest-worthy without burning a hole in your pocket.
Yellow Verandah
At Yellow Verandah's kiosk in Inorbit Mall, you can score artsy wooden planks, coffee mugs, incense sticks, and storage options on a budget to make your home hashtag goals. They work with Indian artisans right from Kashmir to Kerala, and hence you'll see a vast range of products. We heart the coffee mugs from Pondicherry which remind us of Nappa Dori; while the hand-painted plates from Kashmir are taking all the glory while the steel tiffin boxes are bringing back dabbas into fashion. Home to elegant floral tumblers, storage tins and boxes, masks (wall decor), and vases, it also has incense cones, essential oils, and handmade soaps. The price range of the entire collection is between INR 80 and INR 3,000 only.
We Do Import
WeDoImport is known to, well, import products from China and the moment you step in, you'll find lots of pretty ones on display. In fact, some of your favourite cafes in town might have got their world map wall decals and garden accessories from this store too. What caught our eye are the delicate bird cages and wooden carts that are sure to jazz up my room, but also the party props that will make birthday parties and bridal showers all the more fun. Peeps who love paper bags will go bonkers at the hundreds of varieties of bags, and the wall hangings or ceiling hangings seal the deal. Besides, everything is pretty affordable too.
Lepakshi Now Golkonda Handicrafts
A treasure trove of handicrafts from across the country, Golkonda houses home decor, furniture, and art work that is sourced from different states across India. Think tribal paintings from Odisha with earthy borders, Cashmere silk shawls from Kashmir, Meenakari designs on brassware from are just a few of the things that caught our eye here. There are flower pots, white wood statues, beaded wall hangings, bobble head figures of traditional South Indian dancers, lamp shades made from leather and innumerable other things that will make your room oh-so-pretty! Besides, the prices are pretty affordable starting at INR 200.
Danube Home
Dubai-based Danube Home has set its foot in India with Hyderabad as its first stop. We checked out the store and are loving its garden accessories that come with furnishing and products like patio chairs, vases, home decor accents. The chandelier section is for those who have been waiting to add one to their home but the store has every other home need products like filter coffee makers, quilts, crockery, cookie cutters among a variety of other things.

Pretty Pink Corner
Doing up a whimsical home is no man's joke, but with Pretty Pink Corner, those woes are straightened out. This brand was the first to introduce marquee lights in India, and right from youngsters to celebs, everyone is known to have hoarded them. Plus, we're already eyeing peppy wall decals, photo clip strings, doormats, cupcake shaped lipstick holders that they have. Priced between INR 125-INR 5,000, these chic products are a blessing in disguise for any girl. At the moment, Pretty Pink Corner is accepting online orders only. But we were told that a physical store is on the cards. Oh boy, we cannot wait for it!
Poparazzi
Divided section-wise into home decor pieces and kitchenware to one side and accessories (jewellery & bags) to the other, Poparazzi has an awesome collection. Quirky is entirely in here, and you'd know that if you notice the potli bags, bobbleheads, magnets, keychains, hand painted kettles and souvenirs too. The store curates products from various parts of the country but it also has in-house products that are worth checking out. So, lighten up your room with pieces from here.
Comments