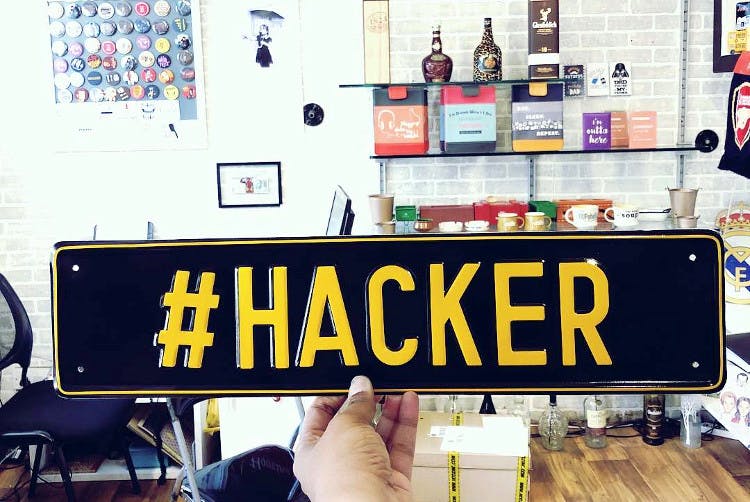 This Art Company Is Telling Stories One Wall At A Time & They've Got A Cool Store Too
Shortcut
Ever wondered who is the mastermind behind some of your favourite graffiti and wall paintings in the city? Well, from the Page 3 theme at Fat Pigeon to the multiple animated walls at Prost – Hoozinc Design & Art Studio has done it all. The good news is that they run an awesome store too and you're gonna wanna keep going to it time and again.
What Makes It Awesome
Mechanical engineers cum art enthusiasts – Chandni Mathur and Nikhil Kapur started Hoozinc as a T-shirt designing venture to let their creative juices flow. Today, they are one of the most sought after graffiti artists not only in Hyderabad but in other cities (Vizag, Delhi, Bombay, Bengaluru to name a few) as well. Their venture, The Hoozinc Store in Banjara Hills makes canvas paintings and quirky artwork on sneakers and clothes. Having opened a brick-and-mortar store since 2011, they cater to pop culture fans and have a variety of products from notebooks to metal signs for decor.
The duo behind Hoozinc also train self-taught artists or art school graduates in the process and have a full-fledged team of talent taking care of this business of art. Not just of the store, but also through their shareable murals and installations. They aim to spread the messages they believe into wider audiences and also cater to client needs in an unprecedented fashion. Their motive is to empower artists and promote respect for the art form in the country and beyond. Their art pieces can be found scattered across the city — from the Green Gully of Maqtha Art District to the walls inside Forum Mall. They also have worked on numerous cafes and bars including favourites like Tiki Shack and Cafe 115. It is also a professional creative partner for brands in housing, corporate, healthcare, and other sectors. If you enjoy bright and colourful statement art pieces on otherwise ordinary walls, you have to go on an exploration of all of Hoozinc's work in the city.
Pro-Tip
The store in Banjara Hills boasts of an exquisite collection of vinyl record stickers, DIY colourful desk calendars, coffee mugs etc. You can find Pablo Escobar on a mug to Marylin Monroe on a canvas! They have coasters, badges, phone-cases, barware and just about anything a pop culture obsessed millennial might fancy. We recommend that you hit up this store for customised gifts to surprise bae or to make your mum's kitchen cooler too. The price range starts with the badges priced at INR 100 and can go upto INR 1800 for customised gifts.

More Information
Hoozinc Art & Design Studio
Comments