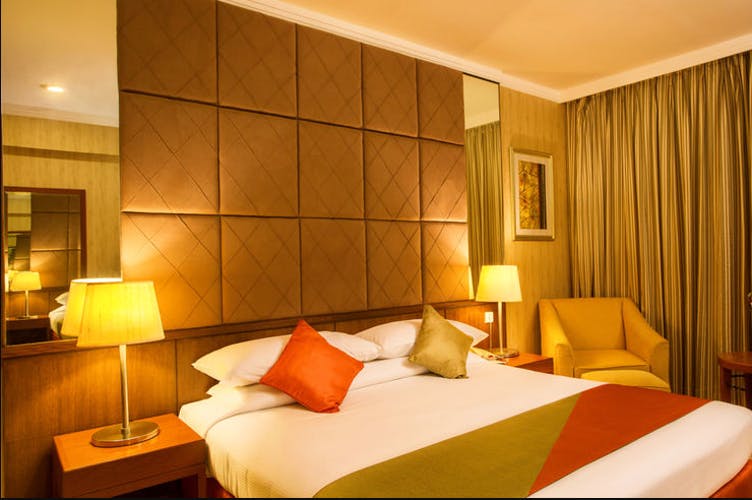 These Hotels In Gachibowli Are Your Best Stay Options If You're Visiting Hyderabad
Visiting Hyderabad on work? Planning to check into Gachibowli? Here is a list of hotels in Gachibowli that you can crash at. Whether you are on a budget or willing to go all out and about, this list should cover it all.
Ellaa Hotels
Offering three types of rooms — Ellaa Hotels has Ellaa suites, executives suites, and superior rooms. Eeach of these is designed with a modern (and urban) home touch. The executive's suites and the superior rooms are done impeccably with wooden furnishing and the decor is in earthy colours and matches the furnishing. While booking the rooms, you can opt for a breakfast buffet which is priced at INR 500 extra (depending on the site you book) per room and you can enjoy several varieties of bread, detox drinks, North Indian & South Indian delicacies along with Continental breakfast.

The Lime Boutique Suites
On days when work has drained you out and you're looking for a comfortable stay to recharge your energy, check into The Lime Boutique Suites. Think luminous green accents against white walls, minimalistic decor, spacious rooms that let you breathe and find them all here. You can either go for medium rooms, or large and extra large rooms that have facilities like a king-sized bed/two single beds, free WiFi, a study table, television, coffee maker, and an attached bathroom. Since the ambience is radiant and the amenities are pretty modern, there's no way you'd feel dull here. It has a vegetarian restaurant and an in-house bar too.

Lemon Tree Hotel
Located quite close to Indian School of Business, Microsoft, Q-City, Amazon, and several other tech giants, Lemon Tree Hotel's branch is Gachibowli is one of the most coveted ones. The rooms are quite simple and well-designed but the breakfast buffet is easily one of the best in Hyderabad. If anything, this is what takes us back to Lemon Tree, time and again.
Holiday Inn Express
Holiday Inn Express group of hotels are mid-priced luxury hotels and if you are looking for a stay that's not too expensive but looks solid, this is your guy. The rooms are done up either in blues or hues of orange, and the decor matches this colour. Plus, it's super Instagram-worthy! Now this one isn't exactly in Gachibowli, it's near Phoenix Arena in Hitech City but this is often one of the most chosen properties because of the location.

Oakwood Residence Kapil
Oakwood Residence Kapil is located in Nanakramguda, which is 15 minutes away from Gachibowli. With a tiny pool, a lovely cafe called Cafe 115 (amazing coffee), and rooms that scream opulence, this is one of our fine picks. The rooms come with a queen-size bed, work tables and a lofty window with a sweet view.

Ask Sunaina a question