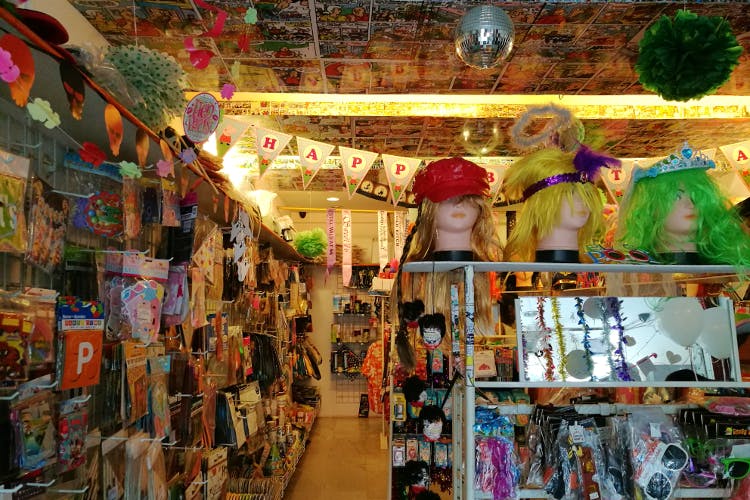 Throwing A House Party? Here's How You Plan It Like A Pro
Love intimate house parties where you get to theme and curate everything? Welcome to the club. We love to be our own DJ, cook or order in from our favourite caterer, and deck up our home just as we like. Want to throw one and don't know where to start? We'll help you get this party started. Let's dive in!

Get Alcohol From Tonique
A store that looks nothing less than a nightclub, Tonique is where we go for stocking up on alcohol. Whether you're looking for alcohol on a budget or those rare wines and champagnes, you'll find it all here. The price range starts at INR 130 and if you're clueless what to get, the good peeps at the store will help you out for sure. Interested in bartending? Then grab those freakish animal-face flasks, mixers, funky bottle openers, bottle holders, alcohol mixes of interesting flavours, and accessories (mixers, stirrers). Plus, they have plenty of snacks too!
Pick Props From Party Monsterz
Fancy party hats, disco balls, and metallic balloons? Then you're in luck as you can hoard all your ideal party props from Party Monsterz. Right from funky disposable plates and glasses to fairy lights, find them all here. They also stock up wigs and masks, so if you're interested in theming your party, this has to be your one-stop shop. We're thinking something dark...something V for Vendetta.
Drink Ware From Super 99
Super 99 has branches all across the city but we love the branch in Inorbit Mall as it houses epic drinkware. We're loving those pocket-friendly mason jars, bulb jars, and tumblers. If you're interested in serving cocktails or any drinks in these jars, head out here. The price range starts at INR 99.
Order In From Our Food Factory
Biryani, kebabs, and desserts for the dinner? Then order in from Our Food Factory — an independent caterer based out of Secunderabad. Known for whipping epic Hyderabadi dishes, you can place your order, customise, and take recommendations from them on what's best. Their mutton samosa and corn cheese samosa are popular so, don't forget to get them too.
Do note that you have to order in advance as they receive a number of orders.
Download A Free Music Player App
Skip the hassles of download music and download Troppo — a free party music app. Discover new party songs and albums and keep playing them on a loop with a beat every second. We're diggin' this!
End On A Sweet Note With Euphoria Bakers
No partayyyy is complete without a dessert. So, break your night over brownies from Euphoria Bakers. Offering brownies in three flavours – Classic Chocolate, Chocolate Walnut, Chocolate Coffee, Euphoria packs you plenty of happiness in its gorgeous blue boxes. While you can walk up to their outlets in Sainikpuri or Kondapur, we recommend placing an order in advance if you're looking at a large number of boxes as they are swamped with orders.
Comments