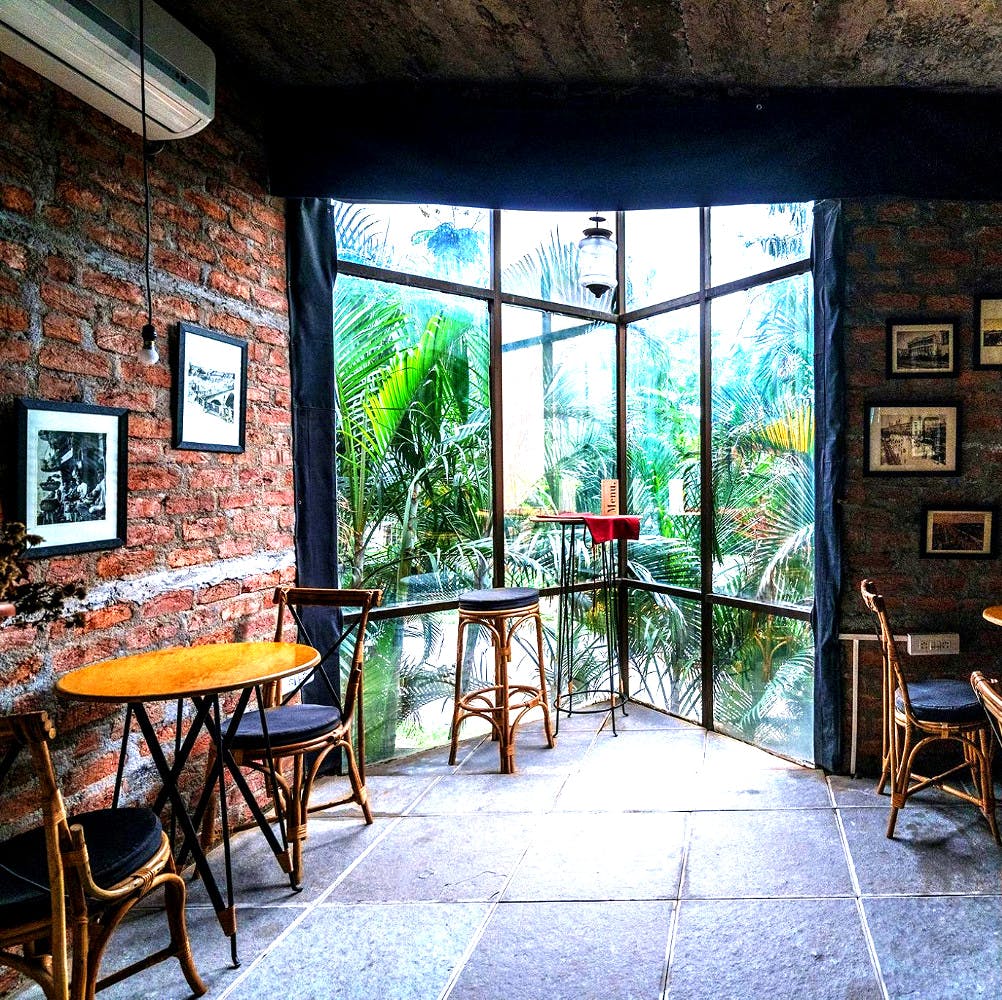 These 5 Hyderabad Cafes Are Perfect To Unwind On Winter Noons
Winter is slowly setting in Hyderabad, and we definitely love whiling our hours away in Summery cafes. Think of light rushing in and plants all around you because these five cafes are a must-do in winters.
Lé Vantage Cafe Bar
Lé Vantage is definitely lit during the nights, but we've spent quite a few afternoons here to vouch for the fact that it's better during the balmy noons. The vibe of the indoor seating is very Mediterranean, and the top floor of the cafe-cum-bar has an amazing ambience. While on one side, there are windows giving you the view of the outdoors, on the inside, it has walls with neon lights and bar scenes going on (Proper downtown NY bars feels). The music is usually pleasant during the noon and perfect for conversations over wine.

Autumn Leaf Cafe
True to its name, this pet-friendly cafe will leave you in the autumn of spirit. Usually thronged by youngsters and celebrities alike, this artsy cafe's corners and unmatched greenery can inspire you from within. Saunter in a little further to find a little boutique that houses a collection of quirky clothing and home decor. Swing by for a seat under the trees and order a Cucumber Cooler or a mocha. The cafe is so green that you'd love to spend your noons, writing or reading in the outdoors.
The Hole In The Wall Cafe
All day breakfasts, trippy wall art, and rocky outdoors with benches and swings for seating, The Hole In The Wall Cafe is like a winter retreat. The outdoor seating has very Mediterranean elements and the rocky boulders lend it an old-school aura. Call dibs on the rocky outdoors and for a relaxed meal, fetch a book from their shelves and order coffee with pancakes. The cafe is divided into three sections — the indoors with charming wall paints, sunny outdoors, while the upstairs is more of a snug space. If there's something that can pump up a lazy day, it's the music.
Bottega Cafe
Bottega Cafe in Film Nagar is sort of a hidden gem, but the ones who hit up this cafe are regulars. Defined by lofty windows, raw and unfinished brick walls, modest wooden seating, this cafe almost seems under construction when you step in. But that's what we really love about this sunny space. Sip on coffee and gorge on muffins or try their Kheema Cutlet Sandwich. While you are at it, don't forget to slay those Instagram pictures.
Truffle Tower
This pet-friendly cafe has outdoor swings in a lawn, chill vibes, and great food. Grab a seat towards the end of the garden and try a mix of two pizzas — we recommend a mix of Fungi-E-Pollo and Verdure Mist. Need more? Truffle Tower has plenty of board games for you and your squad to play.
Comments