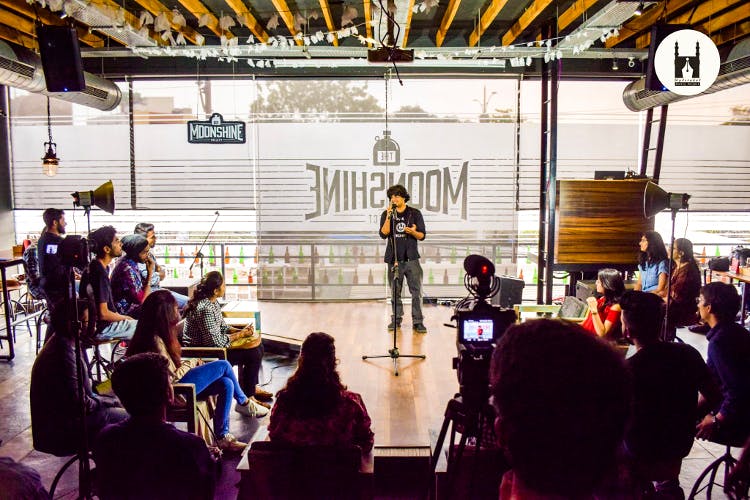 Words Of Worth: This Poetry Group Is Putting Hyderabad On The Spoken Word Map
Shortcut
If words are your catharsis, and poetry is your solace — here's good news for you! Hyderabad Poetry Project is making waves in the city (and beyond) by holding slam poetry events. Poets in the city are serving power-packed performances and you could be one of them.
What Makes It Awesome
Since its inception in March, 2017, Hyderabad Poetry Project has come a long way. Drishti Nagda and Akshay Tiwari, two passionate poets realised that although Hyderabad is brimming with talent, and yearning to express, it did not have a strong platform. There were a few poetry events happening in the twin cities, once in a while, but none was consistent enough to build a community of poetry lovers. So with an aim to create an ardent and active community, the two youngsters stated Hyderabad Poetry Project.
Having started with poetry writing workshops, they soon went on to host multiple spoken word events and workshops. Their first event saw an audience of over 40 enthusiastic people. They have only been extending their horizons since then and have hosted an audience of over 250. By bringing writers, dreamers, and poets together and holding open mics at least once a month — they have made poetry more accessible to Hyderabadis. Now, we know that performance poetry can be nerve-wracking, but don't you worry! They have come up with an idea wherein if you're comfortable sharing your write-ups, someone else will read them for you. And you can recite poetry in three different languages — English, Hindi, and Urdu. They have also roped in popular Hindi poet — Amandeep Singh to recite his poems at their events.
Pro-Tip
To stay updated with their future events, follow them on Facebook. They also have a YouTube channel where they upload their work. Plus, Akshay tells us there will be more events, this year.
Comments