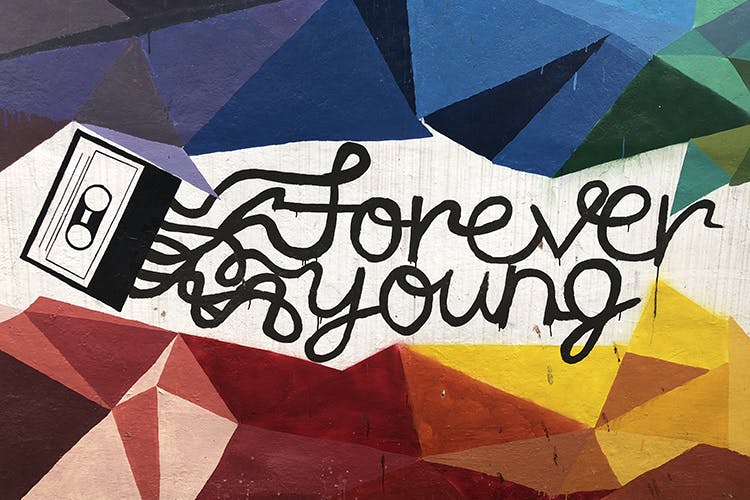 Art On Campus: This University Has Beautiful Painted Benches, Wall & Tree Art
Shortcut
International Institute of Information Technology or IIIT Hyderabad promotes art within the campus and motivates its students to make art. We took a tour of their campus, and here's what we found.
What Makes It Awesome
The moment you walk into IIIT Hyderabad in Gachibowli, you'll be surrounded by dense greenery and cement benches hand painted by students. Ranging from minimal art to comprehensive wall murals, the campus depicts diverse art styles that include portraits, typography, abstract art, and pop culture references. What started as a community activity to paint walls during a college fest led to a movement where students desired to paint the walls to leave an impression on their college. Quickly, an Art Society was formed by the students who volunteered to spearhead the activity of painting walls. This ignited an interest in more and more students to take part in beautifying the campus. The society receives ample support from SLC (Student Life Committee) formed by the management of the university, which also actively sponsored the required toolkits.
Whatever the form of art is, every wall has a story to tell. For instance, we've come across walls painted with Chacha Chaudhary and Sabu, Harry Potter, and The Minions to paintings that resemble book art of Italo Calvino's Invisible Cities. Students have started to perceive this as a medium to present their thoughts and ideas in a cultural centre that attracts different individuals. Nearly 10-12 days were spent on painting eight wall pieces.
Although there were a number of students who gladly put in a few strokes to the paintings, around 20 regular and practicing painters from the campus were involved in making the street art happen. The wall murals are also brought into the play for setting new benchmarks for the upcoming years and also to represent the success of the current year's Kalakshetra (an art segment of Felicity – the university's annual cultural fest). Apart from the wall painting and painted benches, we also found trees adorned with hand-made paper flowers that remind you of cherry blossom. On visiting their basketball court, we checked out a sculpted tree, which was, as a matter-of-fact, uprooted during a cyclone, and the students decided to put it to use.
Pro-Tip
Unless you have an insider or a friend from the university, entering the campus might be tricky. However, there are several RnD (Research & Development) events hosted by IIIT that invites participants from other realms of work and universities throughout the year. Plus, T-Hub, a technology innovation centre by the government of Telangana, hosts plenty of events (open to all) within the campus that are worth attending. They are one of the many reasons for you to visit the campus and also check the art.

Comments