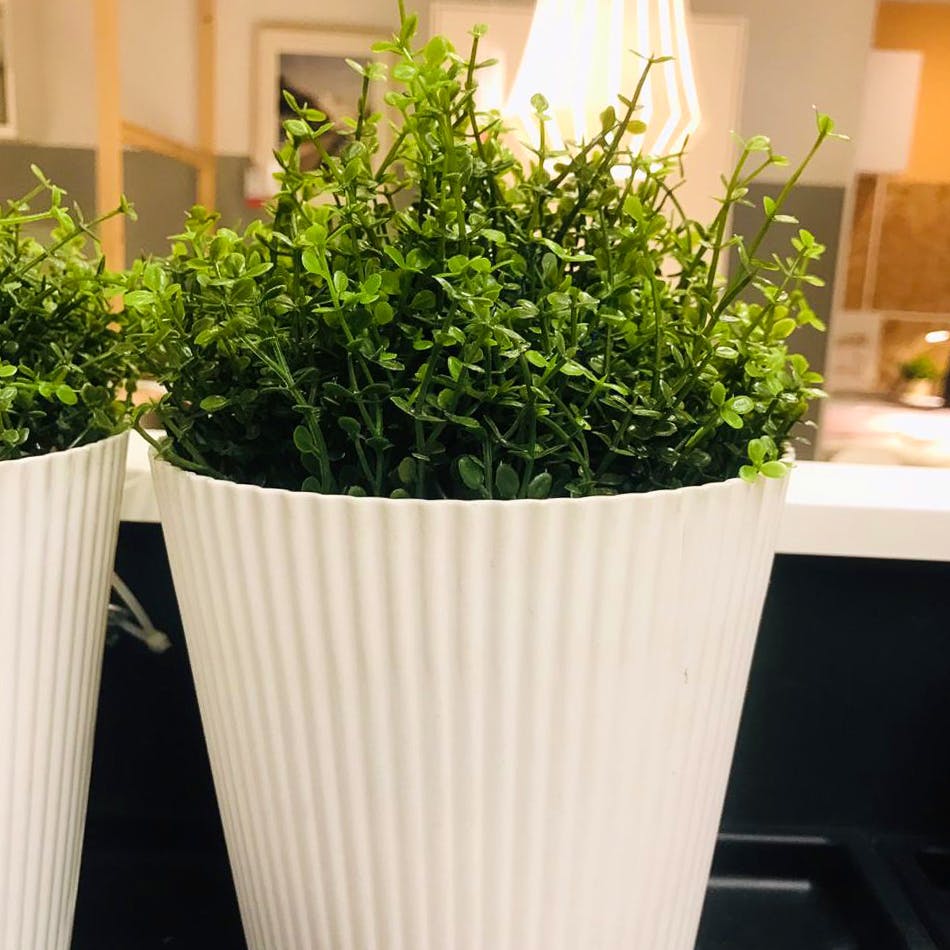 Table Lamps To Desk Organisers: Here's What We Shopped Under INR 600 At Ikea
Ikea, the latest attraction in Hyderabad, has lots to offer from all things big like beds and closets to all things small like mirrors and kitchenware. We went to Ikea to look awesome things under INR 600 to challenge ourselves and we're more than happy with our finds. Read along to see what we scored and how we decided to put them in use.

KVILL Frame - INR 329
This regal looking white photo frame took us back to the Elizabethan era. It's not that big which makes it easily portable and will make great wall decor for the living room.
TJENA Desk Organiser - INR 399
If you're a neat freak and despise cluttered desks then hello, get this desk organiser, now! It has four compartments, three small and one big to store all your stationery and files or even make-up or cosmetics if you're thrifty.

LAMPAN Table Lamp - INR 495
Light up your room in the night with this cute table lamp on your bedside table. It's a medium sized lamp but the light it emits, phew, is so bright. Signature Ikea, y'all.
SKAGGORT Cushion - INR 369
We all deserve a comfy cushion. Be it on the sofas, beds, or even office desks, this black polka dot cushion will go well everywhere. Plus it's extremely soft and plushy, we could just hug at all night.

BRADA Laptop Support - INR 399
We love it for those days when we have to work from our bedrooms. This laptop support is medium sized so it's ideal to support small laptops. But if you have one of those big, chunky, gaming laptops, you'll need a bigger one.

Nejkon Plant Pot - INR 99 Plus FEJKA Artificial Plant - INR 399
To beautify the nooks and corners of your living spaces, get this. Put it on the table tops, on a wall mount or even in the bathroom for that little bit of green, though artificial, this set will add colour to your house. You can choose between a range of artificial plants in Ikea for the same cost, too.

TJENA Storage Box With Lid - INR 279
No one can have enough storage boxes, seriously. This big box with colourful abstract print will look pretty on your side tables and in your wardrobe (you don't have to hide this in your storeroom) and will store all your necessities — accessories, scarves, socks, toys, etc.

VISCHAN Wall Clock - INR 599
Simple yet Beautiful, this wall clock will make a good statement piece. With numbers that can be clearly read and hands big enough to be seen from a distance, adorn the walls with this budget piece.

ALVINE SPETS Net Curtain - INR 569
If we didn't tell you the price, you wouldn't guess this net curtain was so affordable. Love dainty home decor? Get this feminine curtain to pretty-up your doors and windows.

SOMMAR 2019 Bottle With Stopper - INR 149
Do away with your mundane plastic bottles and get this. It has a stopper which means there will be no leakage whatsoever, plus the yellow flowers add a pretty touch to it. This can be stored in the refrigerator and will keep the water cold for a long time.

VINDFLAKT Bowl - INR 367
The copper colour is in trend right now and this small bowl is versatile and sleek. We're thinking of pouring in some water and putting a few rose petals in it like a tiny pond. But hey, you can put in whatever you want.

ONSLEV Door Mats - INR 349
Totally Insta-worthy and practical, these doormats are our favourites (we never thought we'd be crushing on a doormat). Hindi, English, and Telugu — greet your guests in style.
Comments