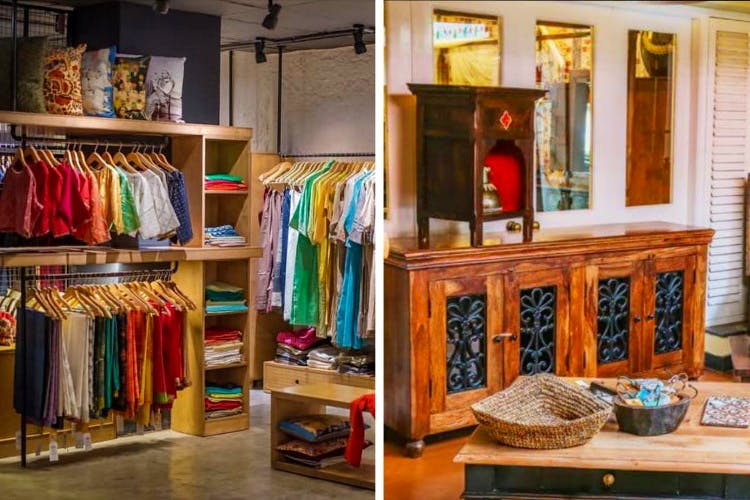 Have You Checked Out These Awesome Indie Boutiques In Hyderabad Yet?
Hyderabad is no stranger to designer labels and stores. Walk down the streets of Banjara Hills and you will be bedazzled by the Sabyasachis and the Tarun Tahilianis sharing space next to each other. But we love how the indie boutique scene in Hyderabad is happening with so many interesting labels that encourage handlooms, upcoming and homegrown designers while sharing gorgeous space with cafes next door.
The Wundershop
The Wundershop is a small boutique sharing space with several others on Banjara Hills Road No. 4 but it's not hard to miss with its neon green and slightly rustic interiors and a bunch of quirky figurines that dot its window display. Score casual, funky dresses (INR 4,000 upwards) onwards, while long gowns range from INR 8,000 depending on the fabric. Got an idea or a design? You can get it customised according to your tastes and needs with Aparna, the designer behind Wundershop. They also make dresses for the little ones.

Malkha
Malkha is not just a brand but an initiative that aims to lend its fabric an earnest human touch. From the early stages of spinning cotton yarn to a finished saree, Malkha has a distinct and guarded approach to every aspect of producing beautiful long lasting cotton products such as yardage of fabric made out of pure Malkha cotton yarn, hand-block Kalamkari printed sarees, kora (unbleached), naturally dyed or printed dupattas made from finer Malkha yarn.

You can visit the store or even place your order online. Malkha has two stores, one of which is in Mehdipatnam and the other in Punjagutta.
Anonym
At Anonym, contemporary modern cuts meet traditional ikat. It hosts clothing ranging from tops to kimonos, all in beautiful ikat. So if you thought ikat was just for traditional Indian wear, then Anonym can change your perspective for good. Anonym also offers unconventional contemporary artisan jewellery, beautifully embellished handbags, scarves, dupattas and footwear, designed exclusively keeping in mind traditional Indian heritage and contemporary fashion. Home decor offerings include a wide variety of furnishings, like abstract handloom bedsheets and rugs from its in-house brand Translate and earthy and minimalistic tableware and clocks from the brand Gomaads.
Autumn Leaf Home Studio
As the name suggests, Autumn Leaf is a warm and quaint cafe that also doubles up as a home studio that intends to showcase creativity, talent, and traditional rich Indian heritage. The serene environment provides for a relaxed atmosphere, whether you're there to meet for brunch or just pick up from a selection of a specially curated range of accent furniture and clothing from various up and coming designers such as Heartloom Tales by Vaishnavi Reddy. They also customise and produce upcycled furniture like bookshelves and coffee tables. Their brass bells and terracotta pots are a hit with regulars. Autumn Leaf believes in making sure that art and sustainability go hand-in-hand. It's just the place to eat, shop and look forward to interesting events that take place every now and then.
Creative Bee
This design studio was set up way back in 1998 by a professional designer couple, Bina Rao and K Siva Kesava Rao whose mission was to bring handloom clothing to the front line. While boasting an excellent network of 400 weavers across the country, they aim to benefit the weavers as well as contribute to keeping the Indian heritage alive. They have a wide range of hand-painted, handwoven, Uppada and tie and dye sarees, Shibori dupattas, and stoles, cotton shirts for both men and women are just a few among many others.

Nicobar Design Studio
Nicobar Design Studio opened up as an offshoot to Good Earth, while both share the same fundamental values, their style is very individualistic. Nicobar, true to its name gives off a tropical yet laidback vibe and that is manifested in the clothes as well as the home decor they offer. Comfortable, modern and true to that familiar Indian feel, that's Nicobar. Imagine flowy dresses, contemporary prints, and checkered shirts.

Translate
Translating culture and heritage into pieces of charming ikat work is this traditional handloom store. Translate is a story of dedicated passion towards reviving the traditional craft of warp, weft, and double ikat and making sure they are as special as they are comfortable. Although rather pricey, we love Translate for the amazing ikat patterns they create against gorgeous colour schemes. Their long jackets, shirt dresses, and bold scarves are some of our favourites. Their indigo shot button kurtas and inverted pleat dresses are our favourite from among their contemporary range of ikat apparel. They also have colourful abstract handloom sarees. So take your pick!
Hoozinc
Hoozinc is everything quirky, catering to the fans of pop culture. The general look and feel of the store is modern yet simplistic which makes sense since the portraits of Sheldon and Angelina Jolie really pop out. Looking for a caricature of Bob Marley on a notebook or maybe funky donut printed socks? Whatever is your quirk, Hoozinc's got you covered. So now you don't need to wait for Comic-Con, head to a Hoozinc store in Banjara Hills for your dose of inexpensive pop culture. We're also recommending their awesome hand painted sneakers, which you won't really find anywhere else.
Vanilla by Sandhya Reddy
Think of Mediterranean blue doors, pink peonies, and beautiful bird-themed fairy lights. Label 'Vanilla' by Sandhya Reddy can make your fairy tale dream come true. This delightful boutique houses ethnic kurtis, kurtas, anarkalis, and flouncy skirts that are priced reasonably. Their floral anarkalis, ikat, and Kalamkari kurtas are designed in quirky patterns with long slits, folds etc. You should check out the store for its interiors, last-minute event shopping, and minimal designs that will surely win hearts. The price range starts from INR 2,500 and goes up depending on the style and the fabric.
Comments