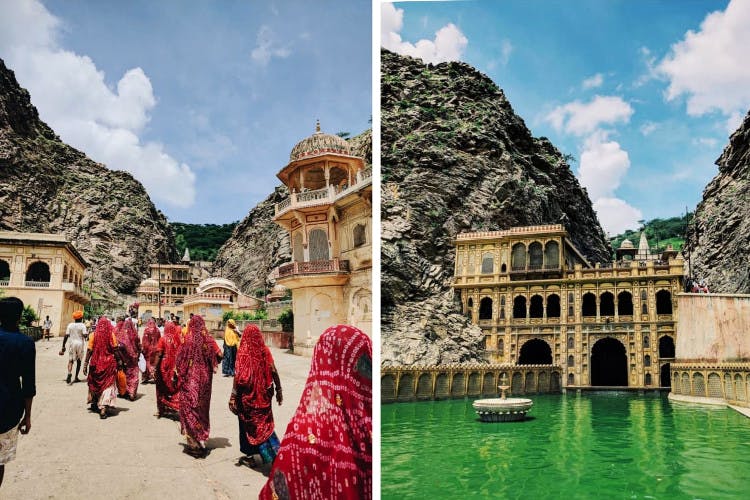 Planning A Trip To Jaipur? Here's What To Do In 48 Hours
Some will tell you that not even a week is enough to gawk at the beauty of Jaipur and your sly guide might tell you that you can trip the entire Rajasthan in a week (I mean, how?) but we'll tell you otherwise. Want to skip the really touristy things and swing it like a local? Or want to make the best out of the limited time you've got in the Pink City? Here's an all-ready (tried and tested) itinerary for you.
Galtaji Mandir
Also known as Monkey Temple, Galtaji is located 10 km away from Jaipur. The roads leading to the temple are a delight to drive through as they are flanked by trees and dilapidated palaces on both the sides. Located between two hills of the Aravalli Ranges, Galtaji is a must-do during the sunrise/sunset. This 16th-century temple is a sight to behold with monkeys sauntering around nonchalantly and women singing in unison. Plus, it has a natural spring inside where you'll find monkeys taking a plunge along with the people.
Nahargarh Fort
After a quick breakfast, head to Nahargarh Fort. On your way to the fort, you're bound to cross Jal Mahal and Jaigarh Fort, where you can spend a few hours and then head to Nahargarh for a proper exploration. At the entrance, you'll find the Wax Museum and Sheesh Mahal that need an INR 550 ticket. Not interested? No problem. There's plenty more to watch. Check out the kund (stepwell), and walk through the halls of the fort. Skip a guide and read through the boards that carry plenty of information about the fort and its history. The view of the city is amazing from the top, so don't miss it.
Panna Meena Kund
If you don't have the time to visit Chand Baori, hit up Panna Meena Kund, near Amer Fort (Which is where you'll head next). This stepwell is less crowded and looks stunning during the monsoon. The symmetrical stepwell also offers a view of the surrounding hills, temples and Amer Fort.
Amer Fort
People will tell you that Jodha Akbar was shot here but that's the least interesting thing about Amer. The view from the top is brilliant as you can see all the hills its surrounded by. The fort itself has a beautiful palace and hallways on the inside that you wouldn't want to stop exploring every inch of it. After you're done, get to 1135 AD, a restaurant inside the fort and relish some local delicacies.
Bapu Bazaar
It's time for shopping. Ditch buying expensive things inside the forts and get to Bapu Bazaar for your share of Meenakari jewellery, juttis, Bandhani dupattas, and Maharani sarees. Indulge in some street food and walk up to Albert Hall Museum to capture some pictures as it's well lit during the night.
Block Printing At Sanganer Or Bagru
If you've been wanting to learn block printing, there's nothing like Jaipur. Our favourite, Anokhi, was started in Jaipur, but if you're looking for something more indigenous, you've got to visit Sanganer or Bagru. Now, your cab/auto driver might take you to a factory that commissions him to get tourists, so we recommend booking a workshop or knowing where to head before you actually reach. Check out Rangotri in Sanganer or Jai Texart in Bagru. Both offer workshops and you can buy your heart's fill too.
Do note that the workshop time depends on what you choose and you won't be able to cover a lot of places in the remaining second-half of the day.
City Palace
City Palace is yet another beauty that is popularly known for its bright green doors. These doors have gained a massive fame because of a certain book cover and picture postcards, and they are, in reality, far more stunning. To explore most of the palace, you'll need a guided private tour (INR 2,500 per head), but otherwise, there is honestly nothing much to do.
Jantar Mantar
Remember how excited you were about Jantar Mantar as a child? It's all going to come alive as you step into Jantar Mantar. It has the world's largest sundial and several other architectural astronomical instruments that were built in the 18th century. Again, one wouldn't need a guide as every significant piece of information is laid out right next to the instruments. It also has several garden areas, a cafe, and souvenir shop.
Hawa Mahal
Located just a little away from these monuments is Hawa Mahal — a palace built from red and pink sandstone. It has nearly five storeys and you can get a glimpse of the hills, Jantar Mantar from the top. While on one side, you'll witness these, on the other, there's the savage Jaipur traffic, so, brace yourself for a very surreal time. Get out and do some shopping if you'd like!
Rawat Mishthan Bhandar
If you think you still got time on your hand, a visit to Rawat is a must-do. The ghewar and rabri ghewar are two divine desserts that you should get your hands on. For sure. The dal batti churma deserves to be eaten too, and Rawat, no matter how crowded in the day, we got here for our share of lassi and ghewar.
Pro Tip
There is a consolidated ticket for visiting Nahargarh Fort, Hawa Mahal, Jaigarh Fort, City Palace and several other destinations. It costs you around INR 200-300. So, be sure to grab it instead of buying an entrance ticket at every destination. If you're a student, your pass will be far cheaper. But just carry your ID card.
Comments