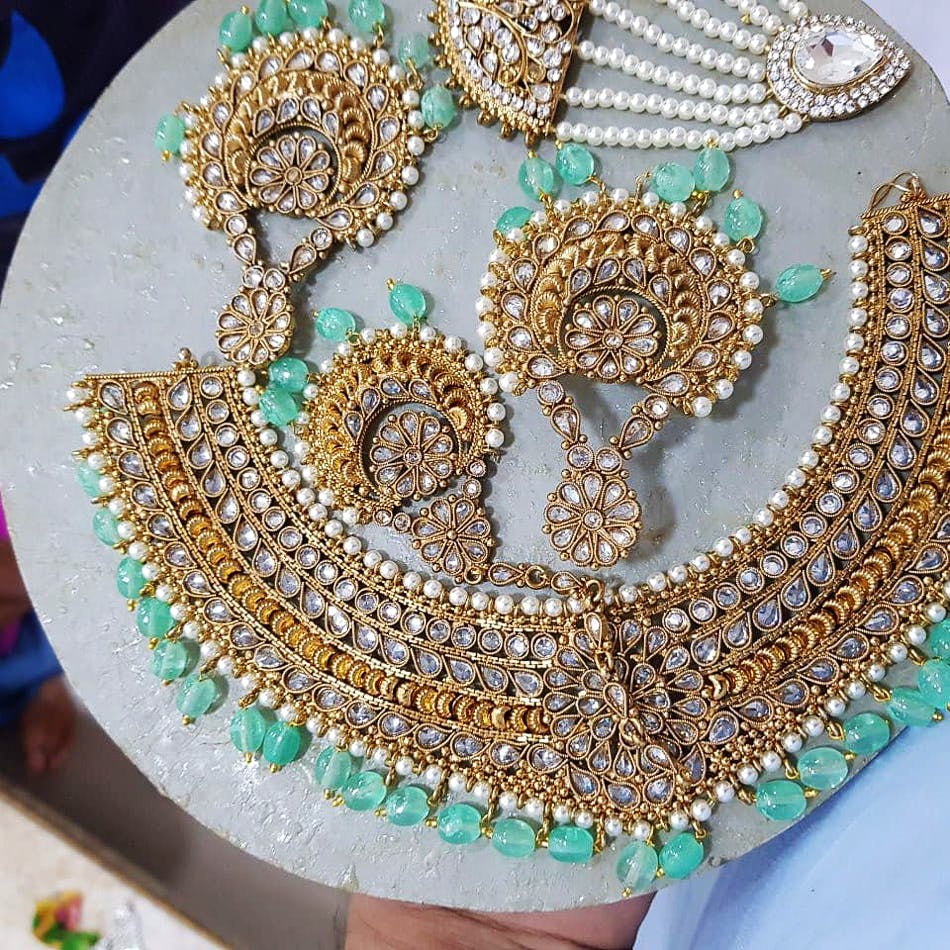 Wedding On The Cards? Make These Jewellery Stores In Basheer Bagh Your New Friends
Hello, ladies! Are you planning to go jewellery shopping with your ma? For an overwhelming collection of jewellery stores, head to Basheer Bagh.

Tibarumals Jewellers
We're sure you've spotted Tibarumals in Basheer Bagh, many a time. This 60-year-old store is known for its diamonds and temple jewellery. Their South India jewellery with rubies, emeralds, and gold nakshi work are lovely, and so are their collectibles. Perfect for wedding trousseau.
Mangatrai The Original Pearls Gems & Jewellery
As the name goes, Mangatrai is known for its Hyderabad pearl jewellery. Founded in 1905, when it comes to pearls, you don't have to look beyond Mangatrai. Their pearl range includes freshwater pearls, saltwater pearls, natural pearls, and more. Apart from the regular jewellery, you'll also find Kundan, Polki, Victorian jewellery too.

PC Jewellers
PC Jewellers is a Delhi-based brand that found a home in Hyderabad. Keeping both contemporary and traditional designs in mind, these folks craft elegant pieces. If you're looking for something that you can wing to work too, mark our words and splurge here.
P. Satyanarayan & Sons Jewellers
Tucked away in New MLA Quarters near Basheer Bagh, P. Satyanarayan Gems & Jewellery is yet another iconic store that has been around since 1949. Their designs are subtle, regal, and crafted for those who believe in classic heirloom pieces.

Tribhovandas Bhimji Zaveri
Tribhovandas Bhimji Zaveri is your go-to if you want to dress up like a Bollywood diva. They've got Kalank-themed jewellery in their store. From Meenakari jewellery to Kundan and Pearl carving jewellery, there is plenty for you to pick from. This store is mostly known for its elaborate jewellery, and if that's the kind you're looking for, go here,

Musaddilals Jewellers
Musaddilals Jewellers have been around for 120 years and if your idea of jewellery is elaborate, get here. Known for stunning diamond and emerald pieces, their jewellery is super exclusive. And what's not to love? They are crafted to look every bit regal.

Jagdamba Pearls & Jewellers
Yet another iconic store that is known for its pearl collection, Sri Jagdamba Pearls offers amazing service too. Whatever is your budget or choice of jewellery, talk to the good peeps behind the counter who believe in showing what you might like. Without much fuss, you'll be taken through your choices. From diamonds to rubies, they've got quite a collection. They have South Sea Pearls and gemstones too.

Totaram & Sons Jewellers
Yet another trusted brand, Totaram & Sons Jewellers is where you can find traditional jewellery. Old school is totally in and we love their temple jewellery collection.
Suraj Bhan Babulal & Co. Jewellers
Suraj Bhan Babulal & Co. Jewellers is a 121-year-old brand that is known for its expert craftsmanship. Find yourself gawking at their diamond necklaces and chokers. If you're into haarams and pearl necklaces, these folks make some elegant pieces.

Omprakash Jewellers & Pearls
Located on Liberty Road, Omprakash Jewellers & Pearls is a perfect choice for those of you who love to stand out. We mean, who doesn't love to stand out? Their pearl chokers and silver jewellery are totally worth going broke for.
Comments