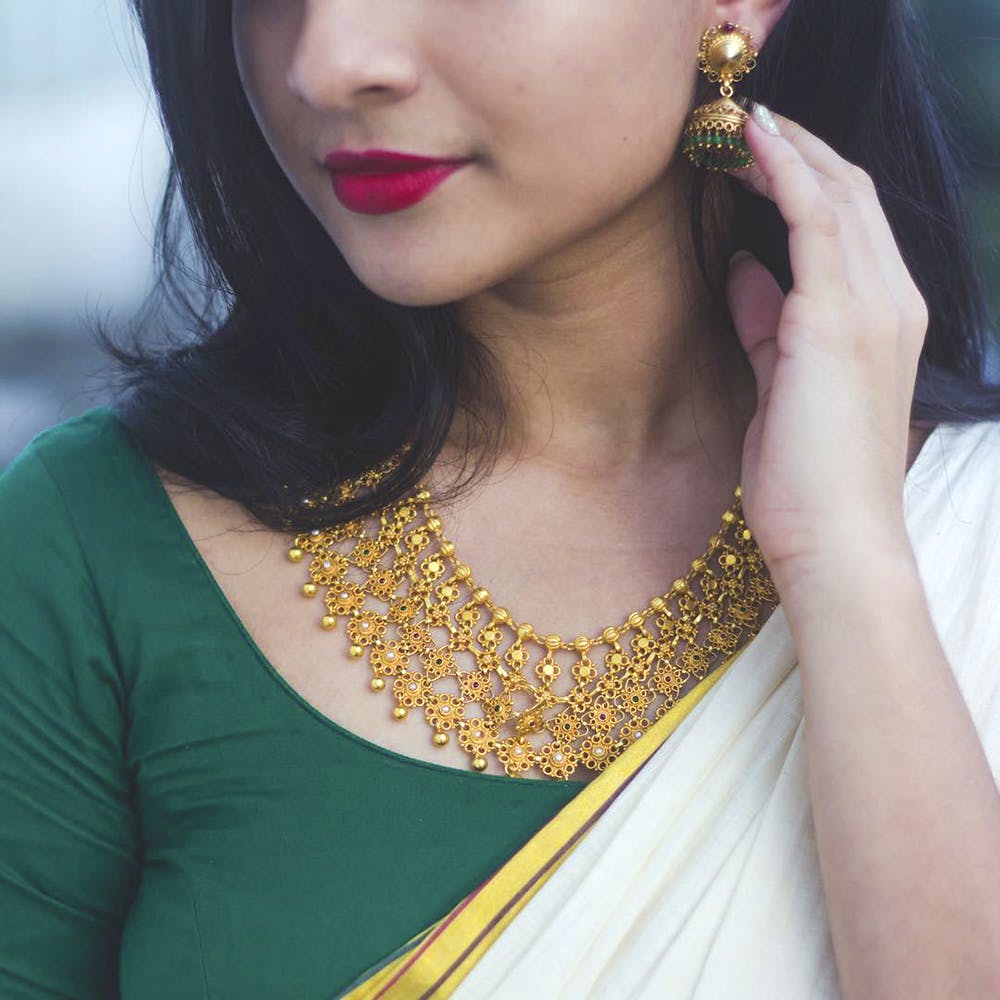 Love All Things Gold & Glittery? Check Out These Jewellery Stores In & Around Gachibowli
Wedding on the cards? The next big thing after jewellery shopping in Somajiguda is Gachibowli (and surprisingly so). With more and more jewellery stores opening up in this area, we've naturally checked out a few. From gold to beautiful pearls, you might want to stop yourself from splurging. Without further ado, here is a list of jewellery stores in and around Gachibowli.
Joyalukkas Jewellery
Joyalukkas has a wide range of uncut diamonds, diamonds, precious stones, platinum, gemstone jewellery, and so much more. From daily wear to the office and party wear, we love how unique the designs are for every section. All you need is plenty of patience to go through the designs, but if elegance is your style, we're sure you'll find something here.

Mangatrai Pearls & Jewellery
As the name goes, Mangatrai is known for its Hyderabad pearl jewellery. Founded in 1905, when it comes to pearls, you don't have to look beyond Mangatrai. Their pearl range includes freshwater pearls, saltwater pearls, natural pearls, and more. Apart from the regular jewellery, you'll also find Kundan, Polki, Victorian jewellery too.

Malabar Gold & Diamonds
Malabar Gold & Diamonds is awesome if you are looking for minimalistic and elegant jewellery. Their diamond jewellery collection is quite limited but they can double up as your am-pm wear too. They have some of the best pieces for men too.

Voylla Fashion Jewelry
When it comes to imitation or semi-precious jewellery, Voylla can easily hang out with the big guys in the business. They've got 1GM gold jewellery, which is perfect for those pieces that you don't want to buy in gold. For instance, a kamarbandh costs you INR 8,000 and upwards. Plus, their neckpieces are beautiful. It's a different thing if you don't want gold-coloured jewellery at all because you can check out their oxidised metal collection.
Krishna Pearls & Jewellers
Krishna Pearls & Jewellers is an iconic 36-year-old brand that has quite a following in Hyderabad. Known for their Hyderabadi pearls, Krishna goes a little beyond in making wedding jewellery spectacular with regal chandraharam, antique necklaces, ruby chokers, and more. We can never get enough of their temple jewellery. No matter what kind of style you prefer, we believe there is something for everyone here.
Senco Gold & Diamonds
We mean it when we say it — it's not every day you come across a jewellery store like Senco. From very Bohemian tribal jewellery to ever elegant diamonds, every collection will take you by surprise. Their Victorian collection is a premium range of diamond rings, necklaces, wristlets for men, and more. They've got a Denim Collection which suits youngsters or teenagers quite well because of the pendants like crowns, bows, lock & key, hearts, and the like.
GRT Jewellers
At around 15 minutes from Gachibowli, GRT Jewellers in Serilingampally is a fine choice. Their two-toned silver jewellery is for those of you who love stones or gems. Their modern jewellery range includes hoops, jhumkas, chaandbaalis in the trendiest of designs. And the best part? The jewellery here fits every budget.
Tanishq Jewellery
If you are looking for elegant jewellery or minimalistic neckpieces, head to Tanishq as they craft simple pieces. Perfect for am-pm wear, we find their platinum jewellery range super elegant. That said, the choices are quite limited at this store so if you're specifically looking for workaday pieces, go here.
Sri Jagdamba Pearls
Yet another iconic store that is known for its pearl collection, Sri Jagdamba Pearls offers amazing service too. Whatever is your budget or choice of jewellery, talk to the good peeps behind the counter who believe in showing what you might like. Without much fuss, you'll be taken through your choices. From diamonds to rubies, they've got quite a collection. They have South Sea Pearls and gemstones too.
Comments