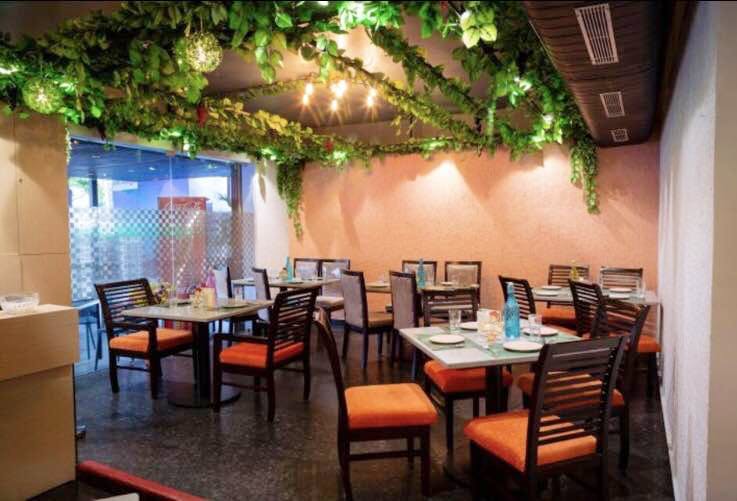 Cafe With A K: There's A New Vegetarian Restaurant In Banjara Hills
What Makes It Awesome
After a long day of work, we made a pit stop at this newly opened restaurant in Banjara Hills, and we're gonna tell you what worked and what didn't work for us. Located opposite KBR park, Kaffe Gardenia is an all-vegetarian restaurant that serves North Indian, South Indian, and a limited number of Indo-Chinese dishes. The ambience of this place is quite simple with standard wooden chairs, tables, and a few artificial plants on the ceiling. We ordered a plate of Button Idli, Burj Khalifa Dosa, and Shanghai Rolls to taste. The Button Idlis were already put in a bowl of sambar before serving and had a strong taste of ghee which overpowered the flavour of sambar. If that's how you like it, then you can give it a go. Burj Khalifa dosa isn't as fancy as its name either. It was folded and served in a conical shape with some cheese drizzled on it and had some stuffing made of tomatoes, cheese, capsicum and masalas inside it. Both the idli and the dosa were served with two varieties of chutneys which were decently flavoured. Shanghai Roll stood out for us and it came with a chili sauce which made the taste better.
What Could Be Better
For the location, the ambience of the place could have been much better. The restaurant was poorly lit with dim lights which made reading the menu difficult. There wasn't anything special or exciting about the food or the menu and quite frankly, we'd only recommend this place if you have nowhere else to go or if you're looking for a decent vegetarian restaurant in that area only. We also thought this place is a bit pricy for the food they serve but we'll leave that for you to decide.
Ask Apoorva a question