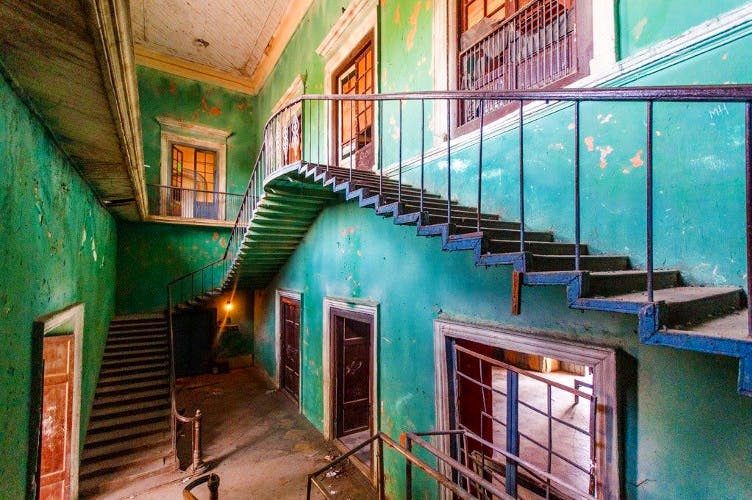 This Ancient European Palace Is Architecture Goals & A Dream For Photographers
Shortcut
Khursheed Jah Devdi, a 150-year-old European palace is a true hidden gem in the city. Go here to gawk at its architectural marvel and explore the glory of the bygones.
What Makes It Awesome
Home to the Paigah nobles who ruled Hyderabad, this palace, located in Hussaini Alam, is a two-storey building with Palladian architecture. The vibrant red walls and massive pillars of the structure remind you of Sabyasachi Mukherjee's studio in Hyderabad and makes for perfect weekend exploration. Tiled flooring and elliptical arches lend this place an unending charm, irrespective of the dilapidated state that it lies in today. This heritage site is also called Khursheed Jah Baradari (literally translating to '12 doors') but has only five doors strongly influenced by European architecture.
You can also find a verandah with colourful tiles and boundless open space from what once used to be a garden. Built in the 19th century, it is now characterised by crumbling walls, debris, broken windows and fragile staircase that make a stunning backdrop for photo shoots and have become a play area for children in the area. The moment you enter this once princely building, you will be able to imagine its glorious past and truly explore its eerie state. Since it's naturally lit, you won't be able to see anything after dusk, so we recommend hitting it up before 5pm.
Pro-Tip
While authorities continue to neglect this structure (although, we're optimistic of a resurrection) — artists, filmmakers, and children continue to make the most out of it. Go here if you want to explore a heritage treasure of the city as well as to study architecture. If you're taking pictures or going here for a shoot, do keep in mind not to litter or damage the property more than it already is.
Comments