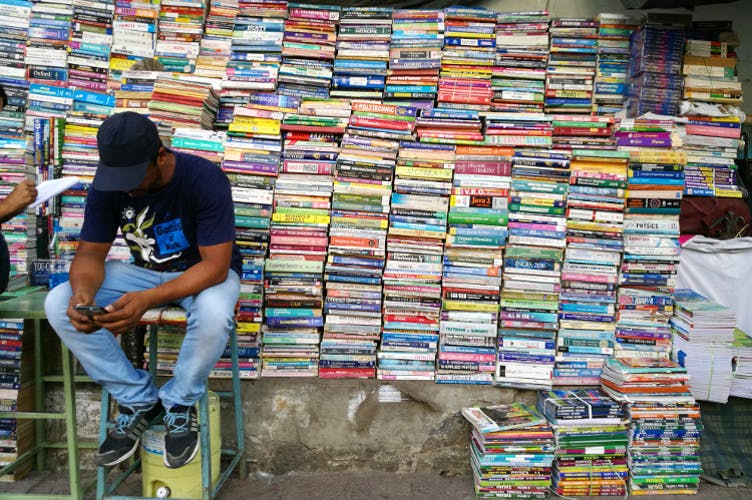 Check Out This Book Stall In Koti For Textbooks, Guides & Novels At Slashed Prices
Shortcut
Students, bibliophiles, and broke peeps, calling you all! United Book Stall stall in Koti sells all kinds of books at heavily discounted rates and here's what to know.
What Makes It Awesome
Driving by Koti Maternity Hospital, we couldn't help but notice an array of books on the footpath. As we walked upto the hoards of books, we noticed that this arrangement consisted mostly of educational books for fields like engineering, chartered accountancy, medical, management and for competitive exams. These books are all second-hand books — dusted and neatly maintained and can be bought at half their original price. From University physics to machine design to books by J.B.Gupta, K.Mehta, question banks collected over the past 10 years and practice sets too, this stall by the footpath is a student's saviour. They have study books from 10th (CBSE, ICSE, and SSC) onwards and FIITJEE compendium books too. Although these books do take up most of the space, the stall also has novels from international and country-based authors. We found The Fourth Estate by Jeffrey Archer, Inferno by Dan Brown, The Dilbert Principle by Scott Adams and self-help books too, like You Are A Badass by Jen Sincero. Evidently, they have a good collection of the popular novels, and if the books are first hand, they still sell them at discounted rates here. You can also sell your old books here and thereby make them available to someone else who might need it and get some money in return.
Pro-Tip
Since most of these educational books can be really expensive and you don't need them once you're done with your college graduation or entrance examinations — it is a great idea to buy them from here instead, and save some bucks. Besides, you can pick one of your favourite author's books too or drop used books that you don't need in your collection anymore and contribute.
Comments