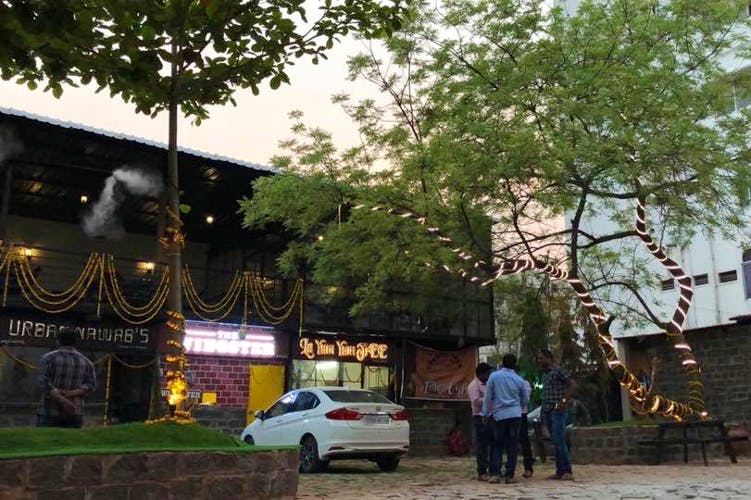 Make Way For This Dilsukhnagar Drive-In That Has A Gaming Cafe Too
Shortcut
Now here's a drive in that brings you food with a dash of gaming. LA Foresta in Dilsuknagar has a Playstation Cafe (PS Club) where you can play your way to glory and head to nibble on their best.
What Makes It Awesome
Dilsukhnagar peeps, you don't have to travel all the way to Banjara Hills or Hitech City to get your share of fun. In fact, the city is moving to your neck of the woods to indulge in some VR gaming at LA Foresta. With a large open screen and a compact ground, you can burn some calories after a sinful meal. Interested in binge eating? Here's what you get. Skip through everything The Wingster has to offer and eat the Wings Of Fire (the spiciest chicken wings out there) and over weekends, they also have a Wings Challenge where you've got to eat their eight types of wings in five minutes.
For those Indo-Chinese lovers, there's a Bruce Lee's Kitchen that rustles noodles, Manchurian, and fried rice. Want to go for a Mandi with your squad? La Yum Yum Tree is sure to fill those needs. This outlet also has Fish Grill Mandi, which isn't usually found everywhere. While there are other regular outlets like Mumbai Chowpati, Roll Over, Me.Pulao, we recommend ending your meal with a cuppa from Filter Coffee. Sorted scenes in life, no?
What Could Be Better
The drive-in shuts shop at 11.30pm and we wish it ran till the wee hours of midnight like the other drive-ins in the city.
Comments