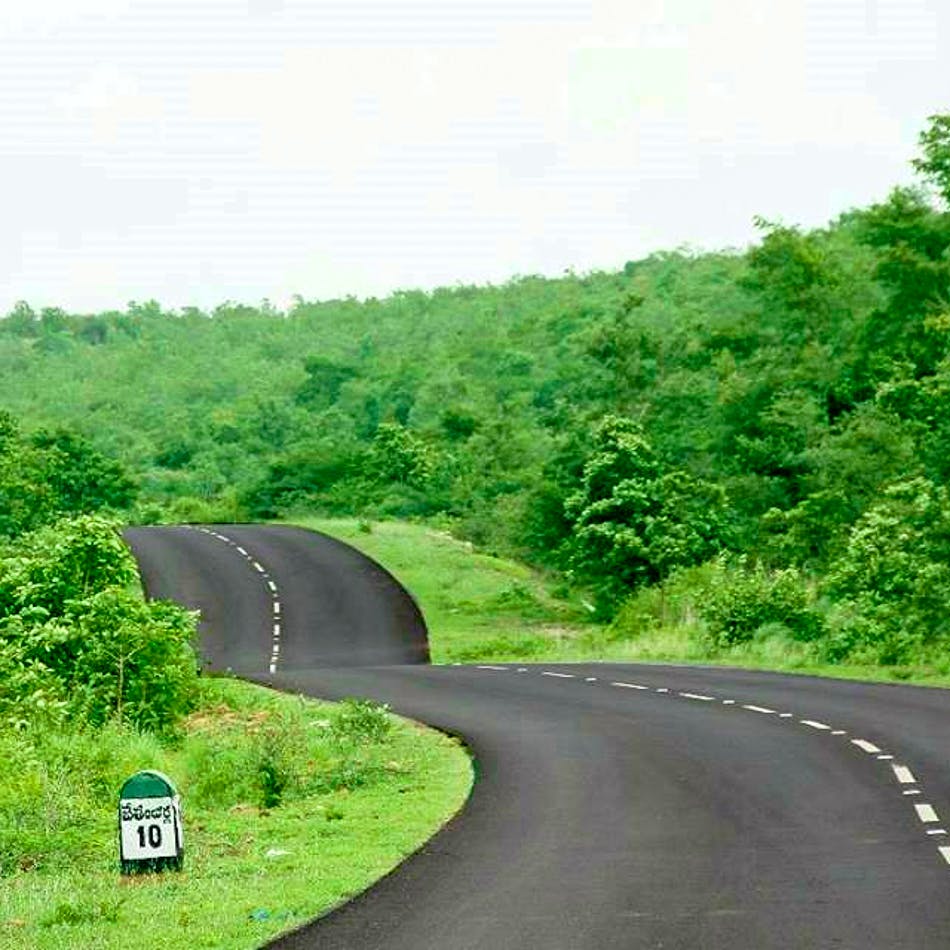 Bikers, Grab Your Keys & Helmet To Go On A Long Drive To These Destinations
If you and your bike love taking off on a long drive to distant (and dreamy) lands, Vikarabad isn't the only destination. There's more and our list of bike destinations will make you go on a road trip RIGHT NOW. So, grab your keys and helmet, mount on your beloved bike and flee!
Kurnool
Kurnool is located on the banks of river Tungabhadra and the three-hour drive to this town will fill you with the sight of dilapidated ruins, river views, natural rock formations, and tiny villages. The villagers are super-chatty in these areas and if you're interested in trying out the local cuisine, they'll gladly lead the way. You've got to check out Yaganti Temple, Kondareddy Fort, and if you've got more time on your hands, drive to
Gandikota
— The Grand Canyon of India. While you can check out Belum Caves and Ahobilam Temple in Gandikota, we recommend checking out Banaganapalli Fort (Tipu Sultan's summer palace) which falls on your way to Gandikota.
Warangal
A drive to Warangal is almost like stepping into the territory of an olde worlde charm. On your way, you'll encounter Bhongir Fort, Yadagirigutta, and finally, reach Warangal which was established in 1163. If you're someone who loves to explore dilapidated ruins, forts, and temples with intriguing art, Warangal must top your list. We recommend you hit the highway (NH163 and Google Maps has all the deets) from Hyderabad by the sunrise hour because watching the sun engulf the sky in its orange glory with forts and hillocks in the background is something you shouldn't miss. But always go a little beyond Warangal on the national highway only to check out Pakhal Lake, Bhadrakali Kali, Ursu Gutta — a tiny village. These are full of green farms too.

Narsapur Forest
You can plan a day-trip to
Narsapur Forest
as it's located just 50km away from Hyderabad. The drive to Narsapur is a lot of fun as you'll spot peacocks, monkeys, and rabbits on your way. The jungle forms a canopy over your head, and when you finally reach the forest, we recommend exploring it as the well-defined paths in the jungle lead you to a rather secluded lake. The sunsets are beautiful at the lake, and you can chill with your friends by sitting on the rocks. Be sure to return before the darkness sets, though.
Srisailam
Interested in dashing through the lush greenery of Nallamalla forests on a weekend? Srisailam is your answer. If there is one road trip that will offer you the scenic vistas of wildlife and jungle, gushing river, caves and the excitement of dashing through the ghats, it's this. You'll encounter Nallamalla Forests on your way that'll wrap you in the lap of nature — flanked by greenery on either side and notorious road bends, riders can have a time of their life. Plus, there's Mallela Theertham waterfall located right inside the forest.

Pocharam Wildlife Sanctuary
Night camping at a lake, anyone? Yes, sir! Located just 12 km away from Medak is Pocharam Wildlife Sanctuary — on the banks of Alair River, a tributary of Manjira, and a drive to this spot is hemmed with lush paddy field plantations. The wildlife sanctuary also has the Pocharam Lake in its limits and while it is amazing to witness the sunrise here, we recommend you to camp for a night here. With BBQ, bonfire, music, and stories to tell, this is perfect for a tiny getaway. And not to forget, the Nizam Bungalow — a 100-year-old bungalow — is now known as a haunted house. If you're looking for cheap thrills, make a visit to this bungalow. It's creepy, so don't say we didn't warn you already.

Ananthagiri Hills
Sorry, but we're not really sorry about Ananthagiri Hills in Vikarabad making it to the list. Regarded as the Ooty of Telangana, it is generously filled with sunflower fields and grasslands. If you've been wondering where those Instagram pictures with influencers in sunflower farms are coming from, now you know it. On reaching there, you can unleash the explorer in you and hike through the woods to reach the edge of the valley that gives you a stunning view of the Deccan Plateau.

Pranahita Wildlife Sanctuary
This wildlife sanctuary is located on the banks of River Prahanitha and makes for a perfect weekend getaway as it is 300km away from Hyderabad. The roadway to the sanctuary is full of deciduous trees and as you enter the sanctuary, you'll spot several species of birds, mammals, and reptiles, and if you're lucky enough, you might encounter a palm civet or hyena on your way. Think you need more? Settle for a sunset that'll give you an amazing view of the Deccan Plateau.
National Parks & Wildlife Sanctuaries
Comments