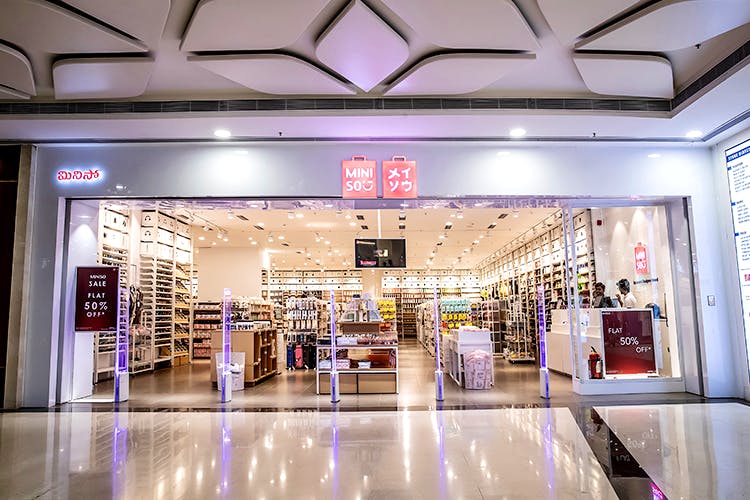 Drop Everything & Head To Japan's Favourite Lifestyle Brand MINISO At Inorbit Mall!
Shortcut
If you like all things fuss-free, minimal, of good quality and on a budget, consider yourself lucky as Miniso has finally opened its doors at Inorbit Mall, Hyderabad! So get ready for a shopping haul with beauty products, stationery, offbeat gift items, boutique package decoration, creative homeware and other cool accessories. Best part? All this is super durable and starts at a basic INR 150 only.
What's Makes It Awesome
Spread across 3,900 square feet, this one claims to be the largest Miniso store in Hyderabad and South India and it's all ready to take over the city. Hoarders, indulge your soul with over 4000 unique items that you'll love to stock up. Quirky designs on linen, cute mugs, ties, scarves, travel accessories, hats and handy gadgets and bags, get them all here! They've even got a whole range of make-up items, flip flops and casual activewear that's super trendy yet affordable.
Whether it's for yourself, a birthday gift or even for those dear goodbyes, Miniso's got the coolest merch around. Soon you'll find your homes being stocked with knick-knacks from there in every other corner. Here's us giving you more reasons to visit our favourite Inorbit Mall.
So, We're Saying…
Girl gangs and boys—queue up soon and hit up Miniso at Inorbit Mall now! There's plenty of great items to browse through in store, lots of cool discoveries to be made and calming the shopaholic in you.
Ask Shruti a question