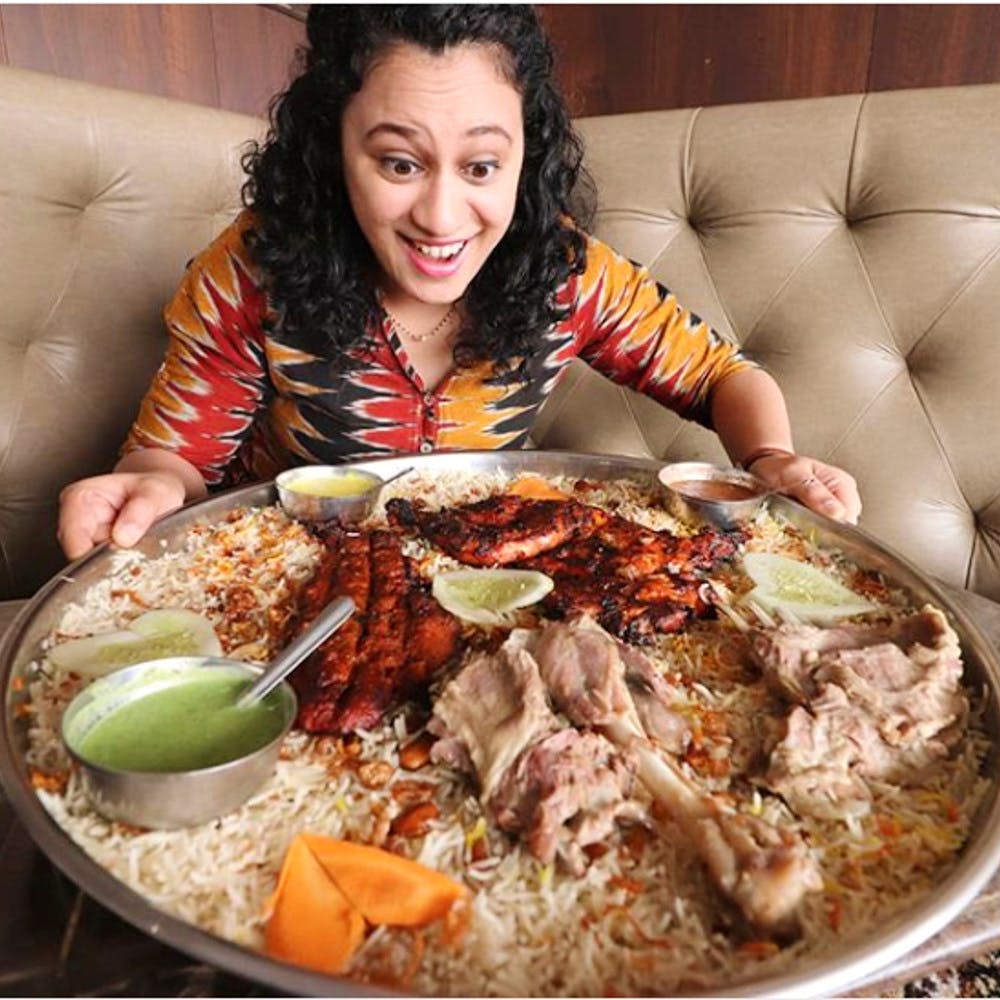 Mutton Hand Piece Mandi To Bacon Burger: These Super Size Dishes Will Tame The Glutton In You
Do you know what is a sad affair? Watching your favourite meal vanish in minutes. We love our dishes large in size, and if you're one of us, you sure want to score some monster size dishes. To make things hearty, we bring you a list of such dishes for the foodie in you. Let's get gorging already!
70mm Dosa At Chutneys
While we all love Chutneys for its Guntur Idli and of course their piquant chutneys, it's the mammoth 70mm Dosa here that is lit! Stuffed with a spicy aloo masala, this paper thin dosa is mighty and how — it will take at least the three of you to finish this one up. The thin dosa ensures that you can't stop eating it and we suggest attacking it from both ends. Served with faithful sambar and a bunch of chutneys, we are challenging you to devour this dosa all alone.
36 Mix Platter At Mandi@36
Meat lovers take an ecstatic backflip even at the mere mention of this dish. With an assortment of kebabs, Grilled Fish, Special Grilled Chicken, Special Prawns, and Mutton Black Pepper, you and your squad can have a little party right here. This gigantic dish also comes with pita and salad and can be easily be shared between four or five hungry peeps.
Ultimate Bacon Burger At Chili's American Grill & Bar
Ooh, the juicy burger! This craft burger at Chili's is the king of all bacon burgers. It comes with a buffalo meat patty and is topped with bacon bits and double bacon along with lettuce, cheddar, and more. Served with fries, coke etc. this burger can satiate all your hunger pangs. While sharing is caring and all that, this one is for you to devour in slow motion and solitude.
Mutton Hand Piece Mandi At Yum Yum Tree
Nothing gets friends closer like a mandi. Served on a huge plate, mandi is biryani rice served with large chunks of meat and rumali roti. This Mutton Hand Piece Mandi comes with the handpiece, as the name suggests, and this is one of the most popular choices at Yum Yum Tree.
Monster Naan At Sahib's Barbeque
We can never run out of reasons to visit Sahib's Barbeque. But apart from the delicacies and the regal ambiance, one thing that keeps taking us back there is their naan. The fun part about this all-buffet place is the naan isn't served on your table, but you're requested to hit up the naan counter where you'll find a large sized one hung up for you to cut. Cannot get enough? Then keep going back to get a piece of it to go with your Dum Ka Chicken or Mutton Curry.
Dürüm Kebab At Istanbul
Dürüm Kebab at Instanbul in Tolichowki is yet another meat dish you shouldn't miss. This filling Shawarma-type wrap comes with slow-cooked meat, large helpings of tomato, lettuce, cabbage, onions, cucumber, or chili, and various types of sauces like sour cream or mayo. The best part about this restaurant is, although the size is large, you can ask for a grander size. The bigger, the better, isn't it?
Comments