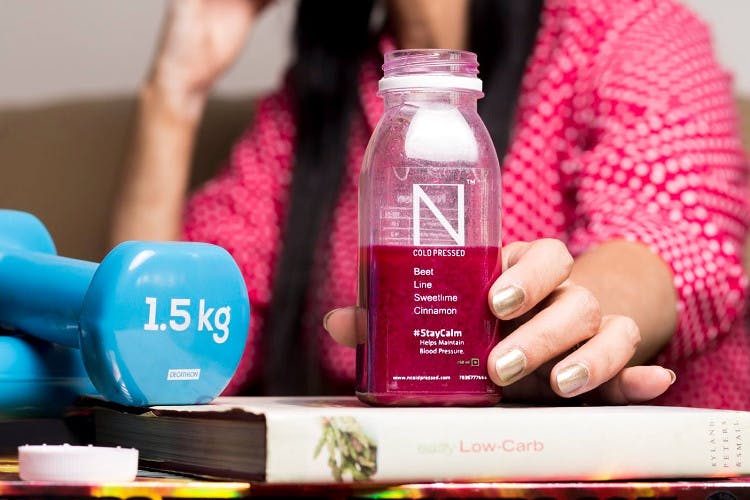 Apple Or Avocado: Detox With Rejuvenating Juices From This Local Brand
Shortcut
The love for pizza, burgers and all things junk often makes you feel bloated. So, if you're looking to get rid of the impurities, and do it tastefully — turn to N Cold Pressed, a local detox & health startup.
What Makes It Awesome
N Cold Pressed offers two kinds of juices — detox and well-being, with the only aim to incorporate a healthier lifestyle among people. Their detox packages come with six mixed fruit and vegetable flavours, as well as with anti-oxidants in 400ml bottles. Their wellness juices include a carefully curated mix of ingredients by nutritionists, which can help you enhance digestion, eye sight, beauty, or reduce blood pressure and acidity too. Available in 250ml bottles, these have cold pressed nuts and seeds in addition to the fruits and vegetables. We tried the glow enhancer made up of Apple, Avocado and Flax Seeds and the Cucumber, Red Apple and Kale mix and thought they were rejuvenating. Of course, the benefits come through staying committed to the detox programme, but we can assure you that with N Cold Pressed, you don't have to compromise on the taste while you do that. You can get these packages delivered to your doorstep, either on a single day or over a period of time. They're quite affordable too, starting at INR 700 for six 250ml bottles of wellness juices.
In addition to the drinks, you can also attend their awareness campaigns and fitness programmes which are apparently anything but conventional.
What Could Be Better
Although we understand the detox programmes, we do wish we could buy the juices individually.
Ask Shreya a question