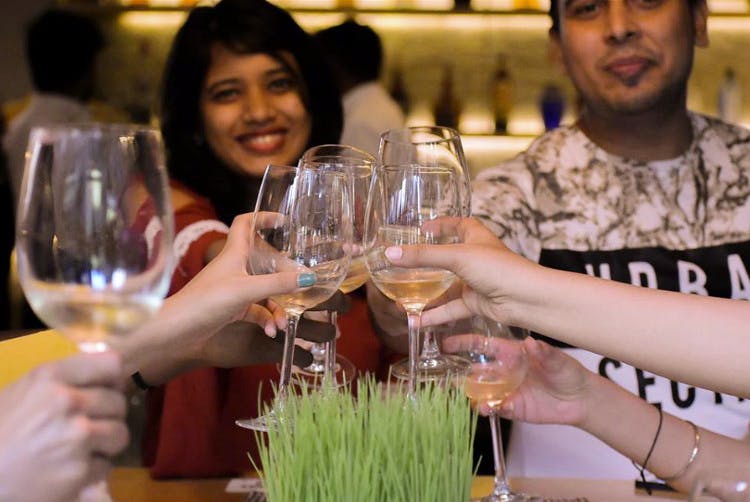 Where To Meet New Peeps In Town
As if moving to a new city isn't exhausting enough, the pressure of not having friends makes it even worse. And newbies, we know how tiring it is to make friends when you just move to Hyderabad. Think no conversation goes beyond biryani? Do you see biryani (And only biryani) everywhere you go? Don't you worry for LBB has a rescue plan! We've curated a list of activities, things, and events you can frequent to find not just like-minded people but the crème de la crème of the city. So, let's get friend-scouting, shall we?
Wine Tasting With Hyderabad Wine Society
Love good wine and stirring conversations? Hyderabad Wine Society — a club run by Vishal Fernandes and Suryaveer Singh, the sommelier — is where you should head to. Expect something novel and fresh at every dinner and you'll never be disappointed with their curation of wine and food menu. Plus, you'll find plenty of fascinating individuals at these dinners. So, all you need to do is join the club and check out their next dinner to attend.
Heritage Walks With The Hyderabad Walking Company
The Hyderabad Walking Company has the best bespoke and heritage walks that are led by Navin Sigamany, a photographer and heritage enthusiast. Navin has a way with words and can ease strangers into conversations. So if you're attending one of his walks, you'll explore the Old City with an out of common perspective, get a taste of the city's grub (That goes beyond biryani, we assure), and befriend not just your fellow participants but Navin too.
Open Mic Night
Comedy, poetry, storytelling, and maybe even more — Hyderabad's open mic nights scene is bustling with the city's best hustlers. Age no bar for friendship? Then find a seven-year-old poet and a 60-year-old comedian sharing stages. These nights are mostly conversational and extroverts can make the most out of it. But if you are an introvert, just sit in the back and go home with a memory of good stories and poems. At the moment, Gallery Cafe, The Moonshine Project are home to several open mic nights, but you can also check out Hyderabad Poetry Project.
Work Out Of Jxtapose For A Day
Jxtapose is a happening co-working space located in Jubilee Hills where you can work, connect, and create with popular and upcoming artists and creators in the city. Bored and want to work out of someplace else? This is your best bet for you can book a day-pass and work out of it. Say hello to quirky interiors and superfast WiFi while mingling with the cool crowd at the events or workshops hosted by Jxtapose and several brands.
Check Out Human Library Hyderabad
At Human Library Hyderabad, you borrow and listen to the stories of people instead of books. A great opportunity to have conversations that defy stereotypes and prejudices, HLH is where some of our friends found their current best amigos (And flatmates). HLH is conducted quite regularly, so we recommend checking the dates of the upcoming meetups and get there. Every story is worth listening and sharing!
Sign Up For GHAC's Trek
Greater Hyderabad Adventure Club has a wide range of trekking and walking activities that will help you get a hang of the city. Discover a mutual love for adventure and thrills at one of their meetups along with your fellow adrenaline junkies. Expect a fine gathering of thrill seekers, and we have personally made some friends here. So, go!
Baking Classes At La Petite Meringue
They say that love for food can bring two lost souls together. If you're a firm believer of this maxim, then find yourself at La Petite Meringue's baking classes. Radha Dhaka's La Petite Meringue is a home baking venture in Hyderabad and she is a baker-cum-sculptor with 25 years of experience. She conducts workshops on basic fondant techniques, mastering the art of baking, figurines. Here, you'll meet a bunch of dessert lovers and baking enthusiasts that you can say hello to while whipping some sugary goodness.
Comments