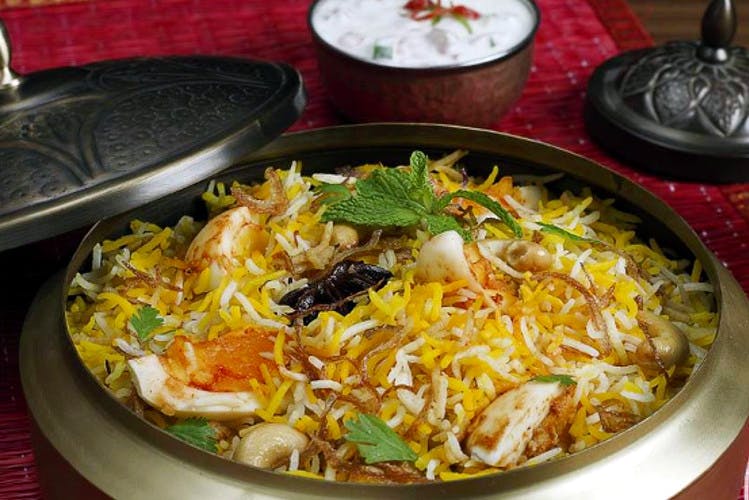 When In Paradise City, You've Got To Have Biryani At This Iconic Eatery
Shortcut
When Guns 'n' Roses wrote the song Paradise City, they really meant Hyderabad. Why? Because this is where it all began for Paradise biryani, and we all know biryani is bae.
What Makes It Awesome
Kicking off operations way back in 1953, in Secunderabad, this global chain began as a little canteen in a cinema theatre named Paradise. It was a little cafe that served up the food that Hyderabad is so famous for — biryani and kebabs. From being a little space for about 100 covers, it now runs as 30 locations across India. But of course, the heart is in Hyderabad, and it is still here that the chain reigns supreme. The menu features soups (Manchow to Sweet Corn Chicken), Chinese options such as Chilli Chicken, Corn Chilli Pepper, and noodles. But really, who's even looking at that. Blindly pick a biryani — chicken, mutton or any of their specials. In fact, they know you really are here for biryani, so the first page of the menu is biryani!
We picked the classic Mutton Biryani, a fragrant mix of rice, lamb, masala and a hint of saffron. Add on salan if you want to spice up the rice, or tone it down with raita. We enjoyed the meat that fell off the bone and was nice and soft. While the dish is iconic, it may not be the best biryani in town. And before you come gunning for us, know that we did enjoy it, but in a city which so much option, it's hard to pick one. The meats are also worth breaking your diet for. Especially the Apollo Fish, that is fish lightly fried, with the outside crisp and inside moist, tossed in a spicy yogurt gravy. Oh, and if you're a fan of Butter Chicken, these guys ace it. Naturally, you must end with Qubani Ka Meetha with stewed apricots.
What Could Be Better
Besides, Paradise biryani has become a bit commercial. Maybe it's missing some love in the recipe! But hang on! The Special Biryani gets our vote. It's a combination of chicken and lamb and is for someone (or four someones) with a huge appetite.
Pro-Tip
We discovered that everything Special or with the prefix of Paradise really is good. We even vouch for the Paradise Special Mutton that is laden with spice, butter, and melt-in-the-mouth mutton. We'll happily have that with biryani rice for as long as we live.

Comments