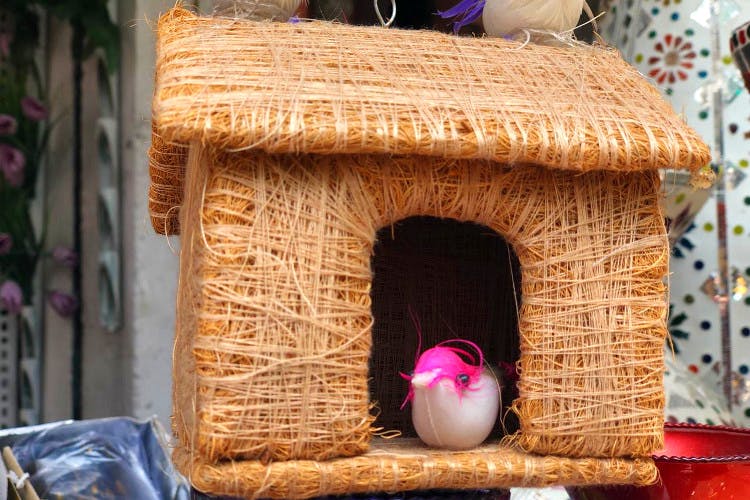 Get To This Budget Handicrafts Store For Pretty Bird Nests & Flower Vases
Shortcut
Paras Handicrafts is a tiny kiosk in the crowded lanes of Feelkhana but the products on display are sure to catch your eye. From flowers vases to bird nest decor, you can get cutesy stuff for your home.
What Makes It Awesome
This small shop is actually just another stall on the crowded streets of Feelkhana, but the items it has on display are truly lovely. Paras, who runs the kiosk humbly tells us that he is happy with his small business and that he makes pretty bird nests and birdhouses himself, simply because he enjoys it. What caught our eye were bird nests made from dried grass in different shapes and with vibrant birds in it. You can get these with one or more birds, and some are even shaped like a swing with these little faux birds swinging on it. Hang it on the balcony, or in your garden, to make it adorable. You will find mirror studded flower vases in various sizes, and colours, and materials like glass and ceramic. Apparently, the flower pots are sourced from Rajasthan where they are handmade with mirror work.
Points for street finds, aye?
Pro-Tip
We think that the bird nests are something you don't otherwise get in the city and are a unique addition to your home (or treehouse). Plus, he has a limited stock of these handicrafts at any given time, so if you have big orders, it may not be the place, but you can surely get something offbeat and nice from here.

Comments