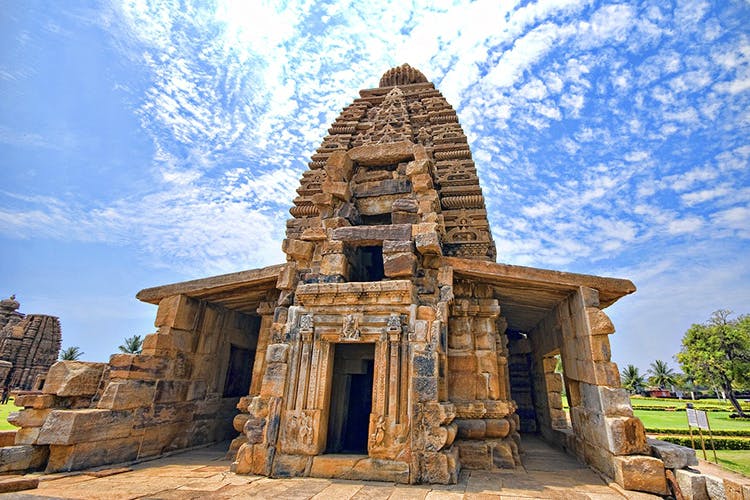 At Less Than 9 Hours Away, This Heritage Town Is A Perfect Escape From City Life
Shortcut
Home to ancient temples and monuments, Pattadakal is a place you must visit to witness grand architecture & to delve into the history of Chalukyas.
What Makes It Awesome
A quaint temple town in Karnataka, Pattadakal lies on the bank of Malaprabha River, which is a tributary of River Krishna. While this town is the home to the temples built in the 7th and 8th century, it's only a couple of hours away from Badami. At this UNESCO World Heritage Site, get immersed in the beauty of some of the oldest temples like Virupaksha, Mallikarjuna, Sangamesvara and the ruins of other monuments, which follow the Dravidian style of temple architecture. There are ten major temples here out of which, nine are dedicated to Hinduism, and one to Jainism. Gawk at the inscriptions and intricate scenes depicted through scriptures here, and be teleported to another era. The town got its name (which literally translates to Place of Coronation) as it was where the coronation ceremonies of the Chalukya rulers took place.
Being just 413 Kms away from Hyderabad, it is easy to get here via road or train. Carry your camera, and take some iconic architecture shots too.
What Could Be Better
There are not enough stay options within Pattadakal, itself. But, there are many in Badami, which isn't too far.
Pro-Tip
Although, you can take an overnight train from Secunderabad to Badami and reach Pattadakal via road, we recommend a road trip because it takes lesser time (about 8 and half hours).

Comments