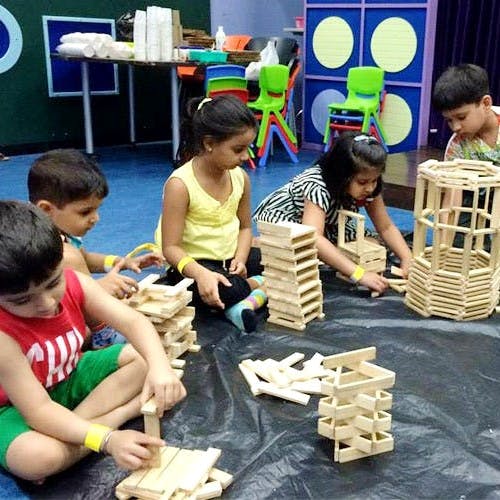 Movie Theatres To Art Studios: Have Fun With Your Kiddies By Taking Them To These Fun Places
Whether you are babysitting a niece/nephew, and want to make it a fun experience for them, or a parent thinking of ways to spend a fun day with your kiddos, here are a few places around town that your tiny tot will enjoy, whether they're in mood for an energetic activity or simply for some candy.
Dinosaur Park
We don't know a kid who doesn't love dinosaurs, and trust us, Dinosaur Park will bring out the child in you too. The first 'saur you will meet here is the cheerful T-Rex. Take a stroll around and give a hi-fi to Pterosaur (the flying dinosaur that rests on rock formations), and be sure to have a rendezvous with Triceratops, the herbivorous dinosaur. While the park has around 25 models of dinosaurs, it also boasts of greenery and is said to recreate plant forms like cycads, gymnosperms to resemble the Jurrasic era.
Colour Me Mine
Color Me Mine studio is spacious with comfy chairs, tables and loads of ceramic toys for kiddos to paint. If you find in your little one a flair of all things artistic, they're going to love this activity. So, indulge in some fun while you make an artsy mess together using non-toxic, food safe dyes. Besides, wouldn't it be awesome to flaunt your kiddo's painting in the form of kitchenware and home decor?

Fluffy Tales
If your little one is quite the foodie, they're going to love the massive fluffs of candy that come in heart and flower shape from Fluffy Tales. Cotton candy makes our heart skips a beat (even more so when you can customise it!) and we can only imagine what it does to kids. Go here for the familiar bubble gum flavour takes you back to carnival memories, but they sprinkle pop rocks and confetti to give it a distinctive taste. Each candy stick even comes with a cute message. We bet your kid is going to thank you well for this.
PVR Playhouse
Themed after Finding Nemo, PVR Playhouse is where kids go bonkers. Teddy bear chairs (that can accommodate both kids and adults), and swings in the back are perfect for them to sit back, but a bright slide in a corner steals the show, more than the movies. Towards the end of the slide, there is a teeny play area with mock lawn for children who can pick balls and blocks to play all they like. So, take them here for some entertainment.
Sudha Car Museum
Dealing with an automobile enthusiast? Take them to Sudha Car Museum and watch their eyes light up in wonder. From helmet and stiletto shaped cars to classy vintage cars to gawk at, there's no chance of boredom while here. Besides, there's also a fish spa inside the museum that you must check out.
The Kids Centre
This fun corner understands your kids' creative side and encourages them to create art. Once they are done getting their hands dirty with the paints and crayons, head to the play area where a bunch of rides and swings await them. The centre also features a cafe to beat the hunger pangs with Italian, continental, and Chinese delicacies. This centre pays special attention to the kind of equipment used and ensures they are safe and sanitised. It serves yummy cakes and desserts, which also makes it the perfect spot to throw a party for your little bundle of joy.
Comments