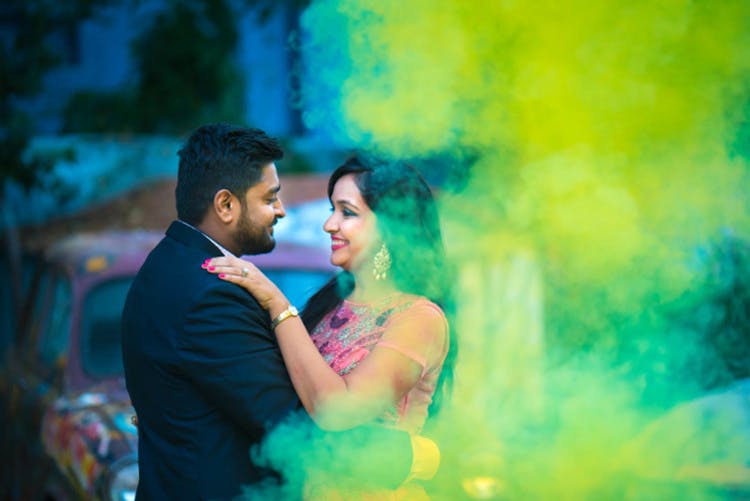 Planning Your Pre-Wedding Shoot? Go To These Places & Be Hashtag Couple Goals
Millennials have taken the whole idea of a perfect wedding up a notch, and pre-wedding photoshoots are trending like never before. From conceptual photoshoots to theme based ones, couples are not afraid to try it all, and tell the world their love stories. Before the wedding season this year, check out these places where you can go to for a perfect pre-wedding shoot with bae.
Taramati Baradri
The grandeur of this historical monument near Golconda Fort is quite like no other. With a legendary love story behind this structure and the medieval architecture giving photographers stunning frames, this place is a top choice amongst city folk for a shoot. We suggest carrying outfits both subtle and festive as this place gives you backdrops for both moods, from its magnificent corridors to a swimming pool. Also, wait until sunset and ask your photog to click a lovey-dovey classic silhouette, as the contour of the arcs here is strikingly beautiful.
Lotus Pond
Have you dreamt of a lake side romantic snapshot for your pre-wedding? Look no more! Lotus Pond in MLA Colony in Jubilee Hills is the place for you. A collection of flora and fauna surrounds the pond and the lush greenery offers a refreshing touch of nature. This place works best for photographers wanting to play around with natural light, and make use of elements in nature for their story-telling. For couples, it is a calm surrounding, so you can relax and be comfortable in front of the camera and get those moments to frame.
Sri Kotla Vijayabhaskara Reddy Botanical Garden
This Botanical Garden near Hi-tech city has everything you might need for a pre-wedding shoot. Bougainvillaea flowers, natural rock formations, gazebos and wooden cottages too. This is becoming a favourite among photographers and subjects alike because they have a myriad of options at a single place. They do charge a fair price for photoshoots here, however.
Ramoji Film City
Tour the film city and get clicked while you're at it! From international cityscapes to Mughal gardens, Ramoji Film City is the destination for adventure loving couples who want their pre-wedding photo stories to have a little bit of everything. Fountains, caves, Japanese Gardens, and film sets — plan a theme photoshoot right now!
Fort Grand Resorts
This Shamshabad resort is a big hit amongst photographers assigned pre-wedding shoots. From luxurious fountains to sprawling lawns, and grand corridors with the backdrop of a fort like building – your pre-wedding photos could use it all.
Ameenpur Lake
Having recently become a bio-diversity heritage site, the first of its kind for a lake – this place is a great attraction for bird photographers. But, come evening, portrait photographers are here doing pre-wedding shoots. Be careful here tough — as beautiful as this place is, it does have lots of birds and animals, so make sure to stay out of their way.
Moula Ali Hills
Atop a hill, you can enjoy the city view and start shooting from sunrise itself for some candid yet fun shots. The natural rocks, the view and amazing light will do wonders for the couple in the picture, and give a filmy vibe to the pictures. However, be careful while you make your way up and even more so while you're overlooking the city by the edges.
Comments