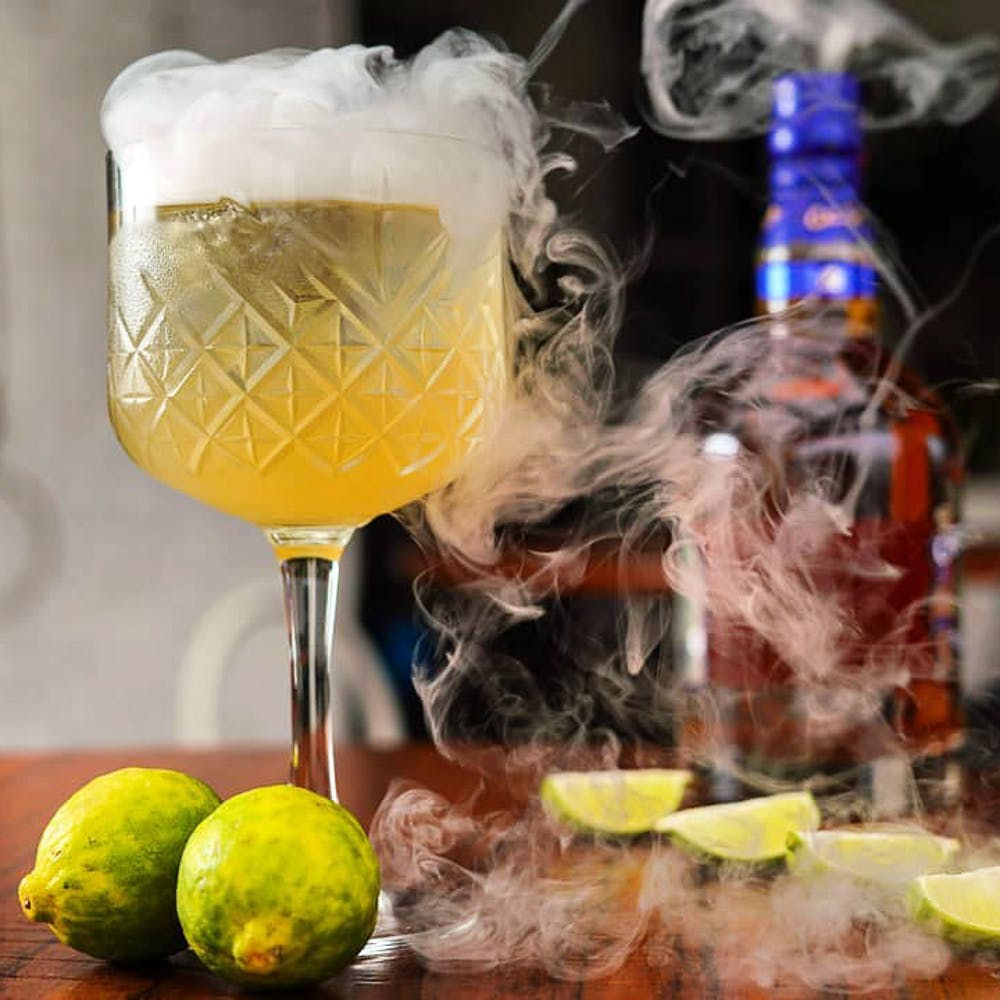 Working In Kondapur? Hang Out With Your Work Fam At These Restaurants
Come Fridays and you are looking for restaurants to lunch at or hang out after work. Luckily for you, Kondapur has tons of awesome restaurants in its hood and if you are looking for a few, here's a list of restaurants near Kondapur.
Sound Garden Cafe
Sound Garden Cafe is ideal for corporate lunches by day, and perfect for a date by night. Sit outside along the open bar, or pick the plush sofas to lounge on. Plenty of sunshine and outdoor bar score brownie points. They serve delicious botanical cocktails like Smokey Hibiscus and Wasabi & Kaffir Lime. They have delicious food and a killer music scene too.

Hoppipola
The door that leads you to Hoppipola is surely out of a Sanjay Leela Bhansali's movie set. Reminding you of Devdas or Saawariya, this bar allows you to take in its bright yellow walls and moody ambiance. The view of the Hitech City Road and Shilpa Kala Vedika from one end of its seating area can help you keep an eye on the traffic too. They have a separate menu for drink deals apart from the drinks menu. Do try The Chicken Trilogy, Peri Peri Biryani (oh so spicy!), and Nacho Libre.

Over The Moon Brew Company
It's dishonourable to refuse a beer is what OTM says. With a pint of beer costing you only INR 160, you'll also find stuff that doesn't weigh heavy on one's pocket. A painted OTM bus in the courtyard welcomes you into the bar with colourful floors and plush seating area. Pick the outdoor seating if you are looking for less noisy space, but we recommend the indoors and their Special Drinks menu that has plenty of cocktails, infused drinks (vodka or white rum infused cocktails), and classics like daiquiri and martinis done in OTM style. With drinks, order the food off their Truckers Stop as Pita Cones stuffed with tomatoes, olives, cucumbers, sour cream, and a choice of chunky chicken or grilled prawns
Kodi Kura Chitti Gaare
With more than 10 types of gaari (wada) in its kitty, Kodi Kura Chitti Gaare rings in a celebration like no other restaurant in the city. They've got interesting dishes like Tamalapaku Kodi Chaaru, Allam Kodi Wings, Royyala Pakodi, Amalapuram Fish Masala that reminds you of a coastal town. Plus, their desserts like Paakam Gaare, Apple Rabdi, Seetaphal Rabdi, Poornalu are really bae.
84 Anjuna Shack
Want to see a little bit of Goa in Hyderabad? Then 84 Anjuna Shack is where you must go with your squad. Done in a laidback ambiance with a seating that comprises basic (yet cushy) bamboo chairs, you will also stumble upon a flea market with apparel, jewellery, chappal, etc. Whether you are in the mood for waffles or pasta, this shack has a little something for every food lover. But we recommend the Spicy Goan Wings, which are juicy and finger-licking good. Plus, you cannot miss out on the Goan thalis like Goan Fish Thali which comes with Fish Rawa Fry, Goan Fish Curry, steam rice, and more. If you love pork, then Goan Pork Thali with Pork Vindaloo, steam rice, kadhi is a must-have. End your meal with Bebinca (a Goan specialty dessert) and go home in joy
Simply South
Simply South by chef Chalapathi Rao does some of the best South Indian dishes, and if you love your rasam and sambar in the most authentic way, you got to eat here. Offering you the vibes of a true South Indian home, this restaurant will engulf you in its old-world charm with Carnatic music playing in the background. Bringing home the best from five South Indian states (Telangana, Andhra Pradesh, Karnataka, Kerala, Tamilnadu), it also has Hyderabadi specialties like Bagara Baingan, Ambada Kheema, etc. We go here for the South Indian Veg Thali which comes with the choicest of dishes – right from Bagara Rice (or any flavoured rice of the day), dal, curries, papad, and more. But if meat is your bae, you can also order for Natu Kodi Pulusu (country chicken cooked with traditional spices in a gravy) or Uragai Mamsam (pickled mutton).

Dildaar
Hearty Punjabi meals, well-lit aangan, and Badshah's music playing on loop, Dildaar is one of those hidden and quaint restaurants in Madhapur. You cannot go wrong with Dahi Ke Sholey and tandoori chicken for starters — both served with pickled onions and imli chutney. For the main course, we got ourselves Sarson Da Saag and Makki Di Roti, and it's by far the best we've had in the city. So, go here and tuck into delicious Punjabi meals.

Zing's Northeast Kitchen
Zing's Northeast Kitchen in Kondapur is known for its terrific ramen and pork momos and if you take your meat seriously, it's a crime to not go here. The momos are served with a spicy homemade sauce, and we love how the subtle aroma pulls us in. Well garnished and cooked, these pork momos are a rarity in our city.

Comments