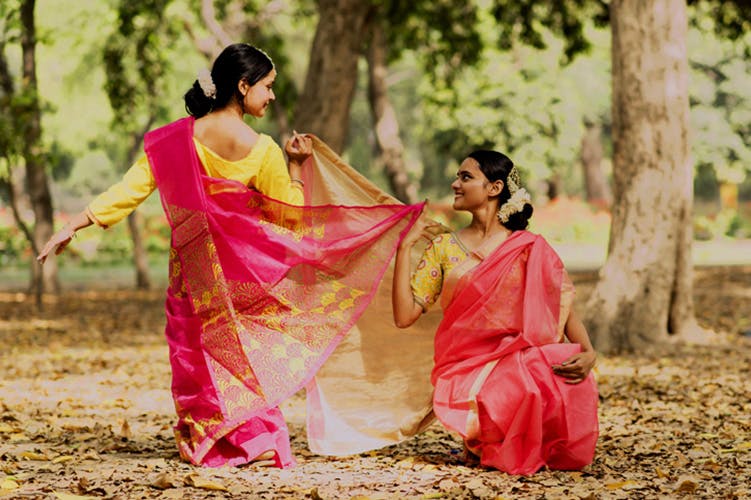 Drape It Like You Mean It: Top Saree Shops In Ameerpet You've Got To Check Out
Ameerpet truly comes alive in the evenings with all the clothing stores well lit-up. If you haven't visited this area for shopping, now is the time. For here's a list of top saree stores in Ameerpet that you've got to bookmark!
Amaravathi Prints & Saree House
Tucked away in the lanes of Ameerpet, Amaravathi Saree House is a hidden gem with some of the best fabrics out there. We were guided to this place by a regular customer, and lo and behold, it does dye-printing too. We found a huge variety of ikat and Kalamkari which are rarely found in other stores along with beautiful Shibori print sarees and simple cottons. This store has lovely ones that come in offbeat colours like turquoise, tangerine, and mehendi colour.

Hanumanth Rao Saree Mandir
Located on Shyam Karam Road in Ameerpet, Hanumanth Rao Saree Mandir literally has no outdoor displays or the like. But when you step in, you're surrounded by aisles and aisles of sarees. Whether you are looking for bridal wear sarees for casuals, you'll find plenty. Load up on silk sarees, Kalamkari pieces, and so much more.
Sri Gadwal Weavers Society Saree House
If handwoven sarees and pieces are more of your thing, you might want to check out Sri Gadwal Weavers Society Saree House. While they've got plain silk sarees, their specialty is Gadwal sarees. From cotton to silk, take your pick.
Sri Sai Kanchi Saree Mandir
Sri Sai Kanchi Saree Mandir is yet another iconic saree store that you might want to check out. These folks have traditional patterns and prints that work well for wedding sarees. But if you're looking for something simple and casual, you'll find them too.

Sri Narsingh Cloth Emporium
Narsingh has multiple branches all across the city but we heart its first branch in Ameerpet. Years after the first store, it spread its wings in the neighbourhood of Ameerpet and other locations. Saunter into its saree section and find Kalamkari sarees in multiple patterns and colours that start at INR 650 and Benaras Silk sarees that are priced INR 1100 upwards. With no hassle, you can pick a saree and a readymade blouse (they look designer, we swear) at INR 500 upwards.

Comments