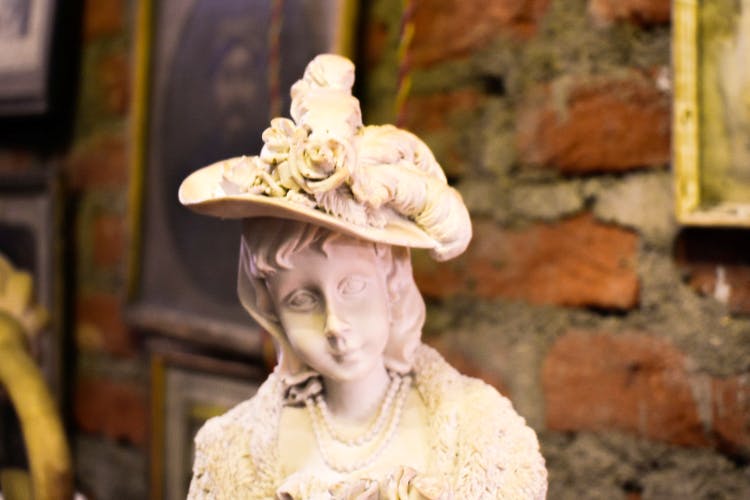 Take Home Antique Collectibles From Across The Globe From This 80-Year-Old Store In Patthergatti
Shortcut
Sesodia Gems And Handicrafts, a quaint store in Patthergatti houses two storeys of antiques. Go here to simply admire the inventory in the store or to stock up on some vintage, statement home decor for your space.
What Makes It Awesome
Mr Bhikam Chand, a hobbyist and collector set this store up 80 years ago to showcase his collection. Still managed by his family today, it has such exquisite products that it will leave you wide eyed in wonderment. From luxurious furniture to miniature paintings, here's your portal to unique products from across the globe. The store is like a museum in itself. Items like a silverware sofa set with velvet cushion, bone-metal show-pieces with intricate designs and Raja Ravi Varma prints neatly put on display.
By the counter, you can see old-fashioned perfume bottles in varying sizes, sherwani buttons (from Deccan Button Factory which adorned the Nizam's sherwanis too) with silver and enamel work, snuff boxes and an array of rings. You can also find woodwork like huge mirrors and dressing tables. In a storeroom inside the shop, there are fancy vases, imported sculptures and gun-metal statues and chairs. On an exposed brick wall, 100-year-old, beautiful litho prints are hung. We also found original photographs of Princess Durrushahwar and miniature paintings of the Nizam. Chandeliers, both rustic and royal hang above, and make this pretty store, all the more so.
Inside, in an old closet, is an impressive collection of crockery – teapots, and plates, and cups and other stoneware. Some of them seem to have faced the wrath of time, but we think that adds to their charm. We found gold plated daggers and wall plates from China, England, Japan and Paris. Wall Pieces made of Jet stone too are available here. There is an entire floor more consisting of furniture items and more of their collections. The price range of the products here is quite steep as most are invaluable period pieces. Antiques auctioned from Rajasthan, Kolkata, and pretty much from all over the world have been collected and put on sale here. There are very few items that are affordable, like a show-piece or a small empty perfume bottle starting at INR 1,500.
Pro Tip
The store is worth visiting just to gawk at the massive and wonderful collection, all of which will remind you of a time gone by. After-all, you may find something here that you may not find anywhere else.

Comments