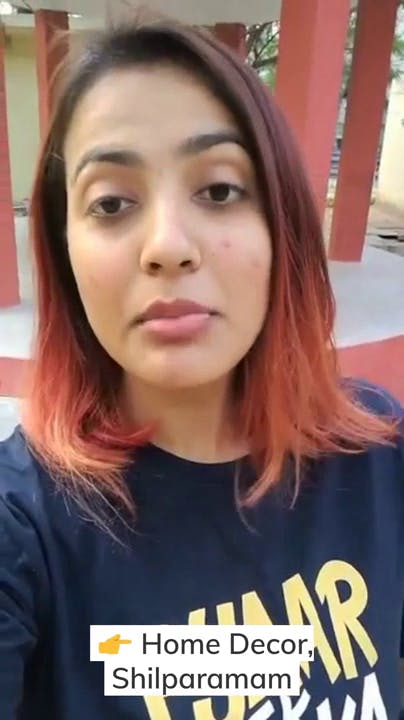 Hitech City Peeps, We Found Budget Furniture & Home Decor At This Artisans' Village Near You
We spent some time in Shilparamam, and apart from all the jewellery, woodwork, and clothes — we found some furniture to add old-school charm to our house. Mind you, you will really have to look because a lot of furniture pieces here aren't that great, but we did find some gems and at reasonable prices too.
Sun-Shaped Mirrors - INR 1,200 (Each)
Shaped like the sun, these beautiful mirrors come with hand-painted designs similar to those often found in henna patterns. The colour palette consists mostly of earthy colours. The very simplicity of this product can make your home decor spectacular. We encourage you to haggle down the prices though.
Colourful Glass Lanterns - INR 350
Know the famous lanterns decking up the streets of Colaba Causeway? Hyderabadis can get their hands on equally attractive, colourful lanterns at Shilparamam. Hang them by the ceiling, or bask in their light by your bed-side.
Magazine Holders - INR 950
Beautify your coffee table with these magazine holders that can conveniently hold upto seven to eight zines. Hoorah! Space for each taste.
Miniature Gramophones - INR 550
If you're a lover of all things vintage — these dummy gramophones are for you. A fine example of wooden and brass handicraft — this piece will lend a classy stroke to your house.
Antique Telephones - INR 350
This old-fashioned telephone is a conversation starter. Nothing like a rusty finish for a li'l bit of nostalgia for the bygone era in your decor. Place it on a stack of your favourite books and you are good to go.
Ceramic Drawer Sets - INR 850 (Set Of Three)
Good for some colour pop, you can use these tiny drawers to keep your accessories, stationery, or even kitchen knick-knacks. They come in sets of three to nine and look super cute.
Cute Jute Furniture - INR 1,800
Go minimalistic with these long-lasting woven jute chairs and stools. They look rustic and charming as well as comfortable and can be set up pretty much anywhere.
Garden Furniture - INR 500 & Upwards
If you have a lawn or backyard or even a small balcony — these dainty pieces will instantly add character to your outdoors. From plant holders to racks and tables for succulent plants — this place has it all.
Pro-Tip
Don't shy away from bargaining here as that can get you the best deals.
Comments