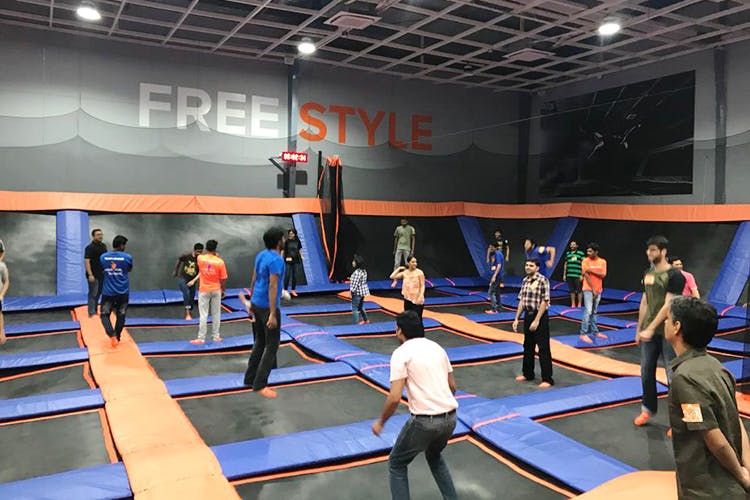 Jump, Bounce & Fly: Have You Checked Out Hyderabad's First & Only Trampoline Park Yet?
Shortcut
Bounce away all your worries, with your gang, at Hyderabad's first trampoline park — Skyzone Trampoline Park. After opening up in the US and Canada and other parts of the world, Skyzone Trampoline Park has made its first home in Hyderabad, in India.
What Makes It Awesome
They say what goes up must come down but what if it is hours of relentless, bouncy fun? What are we talking about? Why Trampoline, of course! The trampoline park is huge and by that, we mean more than 10,000 sq ft of big open space that's waiting for you to have some adrenaline pumping fun. The bright purple and orange decor serve its purpose as it gets you all energetic and bouncy, the moment you step inside. Jump, skip, hop and frolic to your heart's content here without worrying about a thing because you'll be burning away quite a few calories and the stress of your daily routine. Ever wanted to slam dunk like Michael Jordan? Say no more! Skyzone has that covered for you with Sky Slam! Just one of their nine amazingly awesome attractions. Jump back into the medieval past and knock your opponents down and out because Sky Joust lets you do exactly that! Or try on a balancing act with Sky Line and Sky Ladder.
Watch out for the incoming! Phew', that's a close call! if you're out there playing dodgeball! By the way that's dodge ball plus trampoline fun, so bring it on! Defy gravity when you dive right into the foam pit, 10 points if you've got tricks up your sleeve. Just make sure someone's got a slo-mo video to make it look so much cooler. If you're a warrior in life and in the gym, then the Warrior Course will put you through an epic experience of sorts.
Pro-Tip
Don't forget to stay hydrated and well fed with the delicious snacks and drinks served at their in-house cafe because how else are you going to enjoy hours of non-stop trampoline fun? Skyzone also hosts get-togethers and birthday parties, just in case you want to celebrate with the squad.
Comments