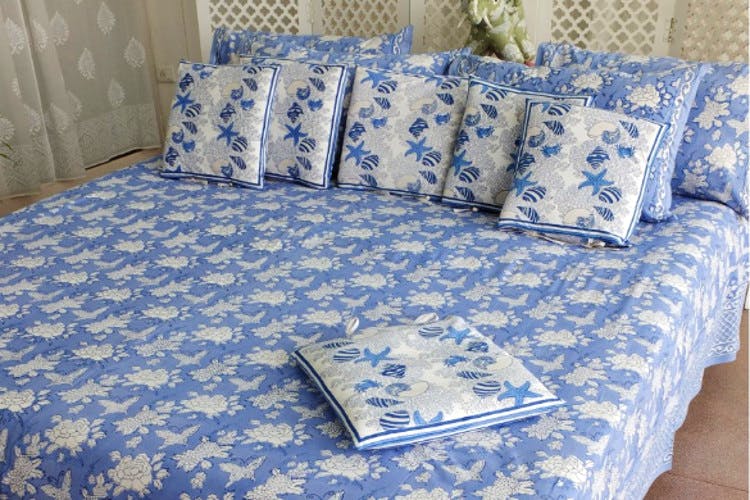 Jumpsuits, Sarees & Home Decor: This Hand Blockprint Store Has A Slice Of Rajasthan In Jubilee Hills
Shortcut
If Rajasthani textiles, traditional block print apparel and home furnishing appeal to you, you must check out Soma Shop in Jubilee Hills for all intents and purposes.
What Makes It Awesome
Soma Shop is a hidden gem that is packed to the rafters with apparel and furnishing that are carefully hand block printed. Originally from Jaipur, this store has also found a home in not just Hyderabad but also Bengaluru, Delhi, Chennai, Gurgaon, and Udaipur. Unassumingly simple from the outside, the store is a world of its own on the inside with mind-blowing crafts in different colours, prints and styles. As you find yourself in the fine company of organic cotton and bed linen that make the cut for royalty, marvel at the dainty bow handbags and backpacks. Don't stop there because you can indulge in jumpsuits and dresses too. Men, you do not have to be disheartened for there's something for you too. You can splurge on kurtas and shirts that are definitely going to up your fashion game. But for your kiddies, check out them printed dungarees.

While the scarves and stoles are priced anywhere between INR 200 and INR 2,000, you might have to shell out more monies for other apparel that include sarees, bottoms, and kurtas. The quilts are made from pure cotton and they're mush enough for warm snuggles. Priced at INR 2,000 and upwards (depending on the print and size), your pad can do a makeover with one of these. While you might want to grab those toffee-shaped neck pillows priced at INR 200 (and a little above, depending on your choice) right away, we'd recommend you to check out the cutlery section to loot the ones with intricate carvings. But before you walk out, be sure to check out the long flowing skirts made from organic cotton. Pair them with plain crop tops and you're all beach-ready (or summer-ready).

What Could Be Better
The sizing of the clothes is a little off so we recommend trying them out before you purchase.
Pro-Tip
Soma Shop also has a website that curates plenty of stuff that is available at the store.

Comments