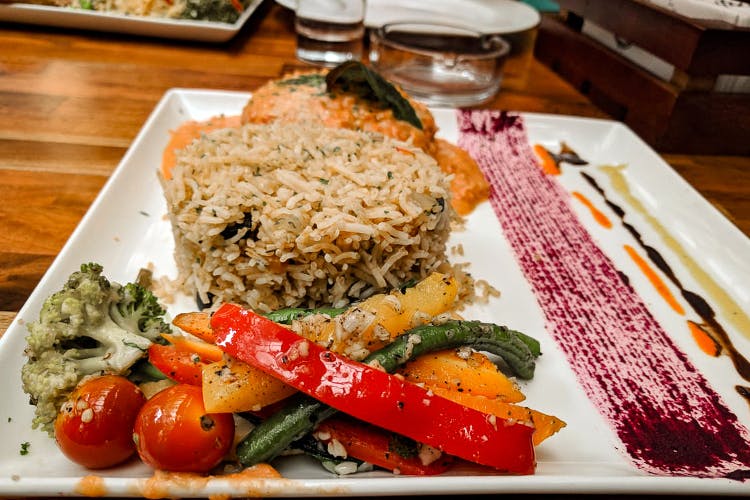 Sip Hibiscus Cocktails & Eat Chicken Drowned In Wine At This Outdoor Cafe In Kondapur
Shortcut
Kondapur now has a new bar that moonlights as a cafe during the day. Plenty of sunshine and outdoor bar score brownie points. But we're going for their botanical cocktails.
What Makes It Awesome
Just when we thought Kondapur was falling behind in its bar scenes, we stumbled upon Sound Garden Cafe that is ideal for corporate lunches by day, and perfect for a date by night. Sit outside along the open bar, or pick the plush sofas to lounge on. Prefer indoor seating? Fear not, this one still has bar-like ambience inside too.
We started our meal with Oriental Stuffed Mushroom which tasted exactly like chilli chicken (fortunately or unfortunately!). After demolishing it, we moved on to Breaded Vegetables, Cottage Cheese & Almond Cake and Grilled Chicken In Mushroom Port Wine Sauce. Both the jumbo-sized dishes were served with sauteed vegetables and rice. While we enjoyed the chicken, the Cottage Cheese & Almond Cake sealed the deal for us. The cake patty was stuffed was almonds, cottage cheese, and veggies; the rosa cream sauce on the cake had the right amount of tang. But we're in love with the cocktails. For instance, the Smokey Hibiscus is a fine blend of bourbon, and hibiscus extract smoked with pine wood chips. Adventurous much? Check out the wasabi and kaffir lime concoction.
What Could Be Better
For a cafe that's named Sound Garden, it should definitely play better music.
Comments