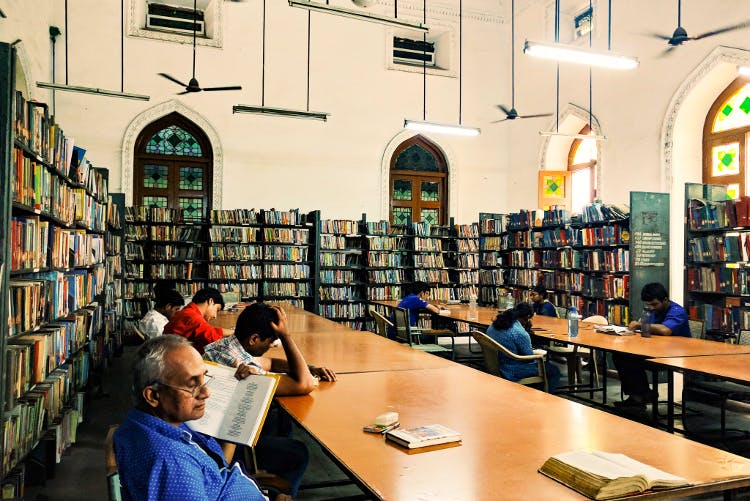 This Public Library Is Located In A 127-Year-Old Heritage Building & It's A Reader's Delight
Shortcut
On the banks of River Musi is State Central Library, a majestic building that houses more than 5,00,000 books and magazines along with palm-leaf manuscripts that'll leave you in awe. This is one of the oldest and best libraries in Hyderabad
What Makes It Awesome
Think of rasping stairways, creaking doors, and dust settling on books. The State Central Library of Telangana built in 1891 by Nizam's chief engineer is a living testament to the magnificent bygone era, and we cannot tell you how enchanted we are! On entering the library's courtyard, you shall be welcomed by the sprawling lawns and readers scattered under the trees. The staircase that ushers you into the library might remind you of the bespoke Harvard University library's staircase, but step in and lose yourself in a world of rich literature. Known as Asafia State Library during its initial years, it was declared as the State Central library in 1955.
As you explore the library with abated breath, find the ceiling-high shelves storing an exhaustive collection of books on science, technology, medicine, fiction, non-fiction, legal, history, world politics etc. Some of the manuscripts date back to the 5th century, and while you're there, we recommend you take the staircase to the first floor which leads you to their newspaper inventory which has papers from the 1940s too. This 72,247-square-yard-building has two reading areas with people from myriad ages reading their heart out. What we also loved is their vast collection of regional literature that's not limited to Telugu and Urdu alone – French, Italian, Portuguese, Bengali, Tamil literature, and translations are also found here. While readers can discover plenty of rare finds, research scholars can thrive in the amount of material that's stored here.

Pro-Tip
Although it's an obvious source of reference materials for students, researchers etc., the library promotes the act of reading rigorously. During the National Library Week, you'll find it hosting a number of events that attract individuals and readers. If you're looking for options for reading or want to meet more readers across the city, we suggest you head over to State Central Library and gift yourself its membership. Even otherwise, this library cannot be left unexplored by any reader. Also, finding a spot for car parking is tricky. You might want to use a two-wheeler or public transport.

Price: INR 150 (first year membership), INR 50 (renewal from the second year)
Comments