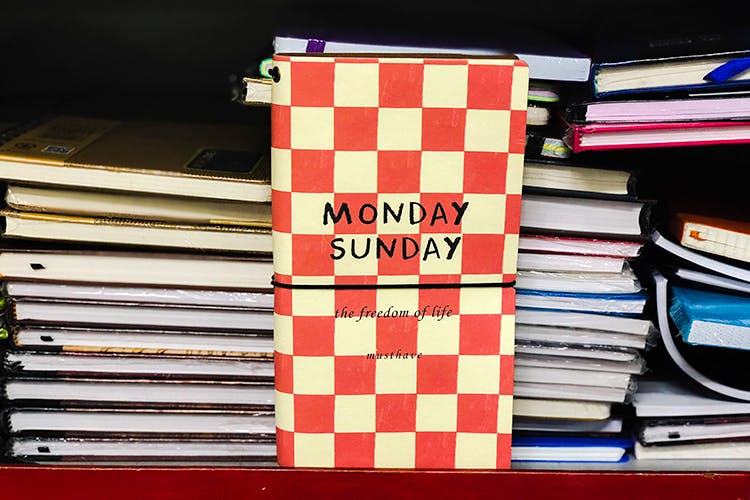 Washi Tapes To Gratitude Journals: This Iconic Store Has Quirky Finds At INR 28 & Upwards
For the past 28 years, Walden, a landmark stationery store in the city has been the destination of choice for kids, artists, readers and stationery fiends. With three branches (the first one was at Begumpet, followed by Banjara Hills and Gachibowli) this iconic stationery-cum-book and gift store is a one-stop-shop really. And the best part? you can find everything from washi tapes to calligraphy pens and pretty journals on a budget. They have toys, gifting, books and party props as well. Here's a list of 10 quirky things we found here, all under 500 Rupees.
The Gratitude Journal - INR 499
If journaling and doodling are your catharses, you would definitely want to own this cute diary called The Gratitude Journal so fittingly. It comes with sepia-toned pages, separated into handy sections. It also has brown envelopes, and pages with grids for the artist in you.
Classic Calligraphy Pens - INR 80
Have you always wanted to try your hand at Calligraphy, but didn't know where to start? Why now, you do! Grab one of these classic calligraphy pens that come in different nib sizes (and some ink) to practice until you master the strokes. Typography enthusiasts, you cannot miss out on these pens.
Lovely Lace Scissors - INR 399
This funky pair of lace scissors comes with four adorable stamps. You can use it to cut decorative coloured papers or lacy ribbons in beautiful patterns. So, if you want to customise a gift for a birthday party, or just fill scrapbooks with goofy patterns — you know what you need.
Framed Quote - INR 499
Are you aware of the wonders a few good words can do? Then you need to get your hands on these inspirational framed quotes. These were actually one of our favourite finds at Walden. Although simple in design, these framed quotes are a great idea if you're seeking minimalistic decor in a study room, or at a workspace.
Likeable Luggage Tags - INR 249
Bored of standard, plain ol' luggage tags? Head to this store and pick up one of these neon coloured tags that come with fun travel doodles. Didn't know a luggage tag could make us want to plan our next travel pronto.
Scribble Books & Mini Diaries - INR 28 Upwards
To make a record of your Monday morning tasks and your midnight thoughts, skim through the various patterns that these miniature diaries come in and take your pick. No task can remain mundane and no memory go unsaved when you carry around one of these in your bag.
Coloured Paper Tapes - INR 125
For borders along custom-made cards, and as ribbons across gift wraps — you can use these adorable, coloured tapes for pretty much anything. You get six colours for a really cheap price too. Quite a deal, huh?
Post-Its - INR 150
Want to separate your notebook with colourful markers? Then look no further than these awesome sign post like post its. These come in neon colours with handy instructions too.
Novelty Notebooks - INR 60
Most notebooks with designer prints for covers tend to put a hole in our pockets; but not at Walden. Here, you can choose from a collection of concept notebooks with quirky covers. You know you're gonna keep this one neat.
Mobile Chalk Board - INR 99
This one is perfect for your work desk. To put into those to-do tasks and tick them away as soon as they get done.
Comments