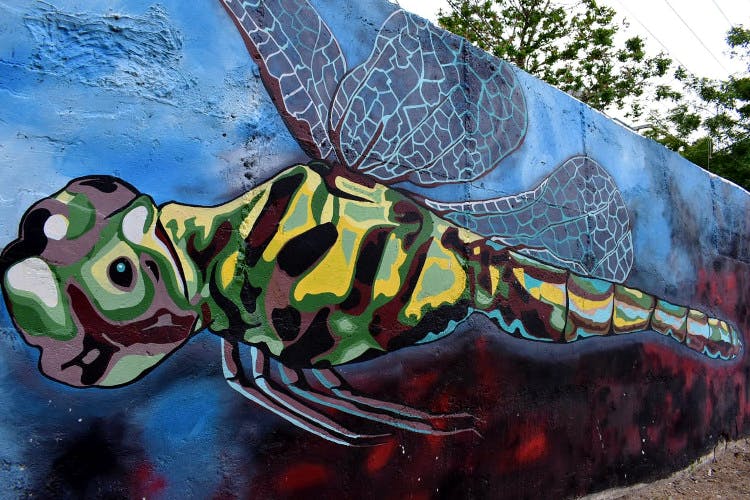 Revolutionary Leaders, Culture & Chaos: Find Treasures Of Street Art At These Localities In Hyderabad
While the mysterious Banksy continues to make an impact all around the world with his street art; closer home - Hyderabad, having emerged as the street art capital of South India, is enthusiastically embracing this urban phenomenon. Passionate local and international artists have come together in order to make this vibrant city even more so, and here's your guide to finding aesthetic corners, by lanes dripping with character and plenty of walls with splashes of colour.
Maqtha Art District
The labyrinthine lanes of MS Maqtha district together mark as the hub for street art in Hyderabad. St+art India, a not for profit organisation is responsible for giving a visual identity to what was otherwise an ordinary locality. The NGO, in association with Asian Paints, has made creative comments on topics concerning the environment, education, and some that resonate with the very essence of the chaos and culture of the neighbourhood. There is also a wall painted entirely by the children of Maqtha, and one painted by the duo behind Hoozinc. As the gleaming smiles of its residents offer a re-exploration of Hyderabad, and welcome travellers — this area is where you need to head to catch some stunning street art. Plus, have we mentioned these spaces are completely Instagram-able!
Necklace Road
Less than 500 metres away from Maqtha Art district is a fine stretch of innovation on a wall, along Necklace Road. Go here to find interesting artwork pertaining to topics like woman empowerment and a cleaner Hyderabad amongst others. One of the artists, Nirmala Bilkula has also painted a portrait of a revolutionary leader — Chakali Ailamma of the Telangana rebellion, as a means to pay tribute, while another artist Nilesh has depicted the famous Irani Chai. Therefore, a walk along this path (or even a drive, for that matter) will not just enthrall, but also educate you.
Hitech City
Being the centre for all the happening events, it doesn't come as a surprise that Hitech City has got some fancy street art going for it. French artist, Delphine Delas, has battled air pollution and scorching heat to give the financial district an artistic touch. Four pillars in Hitech City display her work which is heavily influenced by the colours and culture of India.
Begumpet Metro Pillars
The stretch of 14 feet tall metro-rail pillars in Begumpet display the commissioned work of two companies — Surya Creative and SK Arts. In an attempt to prevent these plain grey pillars from building up a mosaic of missing posters and from being exposed to vandalism — these pillars have been painted to tell stories of local traditions. From popular figurines like that of Telangana Talli to that of the Nizam, indulge the rich history of Hyderabad in this art attack. Other popular art pieces here are those of birds and animals, which apparently are becoming recognition factors for landmarks.
Pro-Tip
It is possible that you might miss out on a few stunning pieces in the colourful maze that is Maqtha, so don't hesitate to ask for directions to different art pieces from the helpful locals. Also, be conscious of the traffic if you plan to take pictures along Necklace Road and Hitech City.
Comments