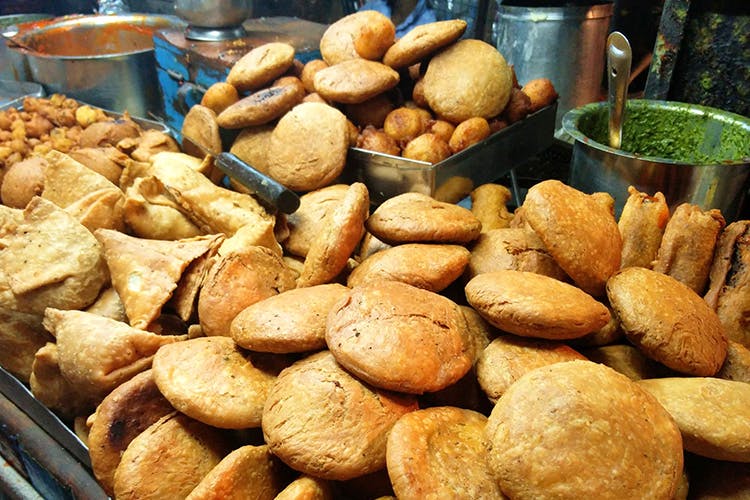 Raj Kachoris, Phuchkas & Ghewar: Begum Bazaar's Street Food Scene Is Lit
A lot of people would have eaten at Begum Bazaar but not much is written about this food paradise in Hyderabad. If you love vegetarian food, you must head to Begum Bazaar.
Scoops Tiffin Center
Located right on the main road of Siddiamber Bazaar beside the masjid is the famous Scoops Tiffin Center. The idlis here are soft, fluffy, and delicious. The dosas here come with quirky monickers. From Namo Dosa to Tan-Tan Dosa, there are no dosas that will bore you here.
Prahalad Tiffin Point
As you walk into the lane beside Scoops Tiffin Center, there is no missing the huge crowd that's usually gathered in front of Prahalad. They serve a huge selection of dosas, idlis and lots of other fried goodness.
Sri Jodhpur Mithai Ghar
Located right opposite the Aziz Plaza is the Jodhpur Mithai Ghar. The size of the Raj Kachoris here is astonishing and the paneer pakodas and bread pakodas are so delicious. They make some decent sweets too. Do not miss out on the Raj Kachoris though, they are an absolute must-have.
Shyam Singh Chat Bhandar
This particular outlet serves some amazing chaat, and they are also known for their dahi wada and puchkas. It is located right at the end of Begum Bazaar Chatri.
Kamalabai Ka Kalakand
This is just a small bandi of sorts with absolutely zero branding. Yet when you ask about Kamalabai Ka Kalakand in Begum Bazaar, everyone will know it. He changes the location of his stall every other night but can be mostly found near the Hanuman Temple. The homemade, white Kalakands are one of the best you'll ever have in the city. He also makes Ajmeri Kalakand, Rabdi, Gajar Ka Halwa and Doodh Peda.
Comments