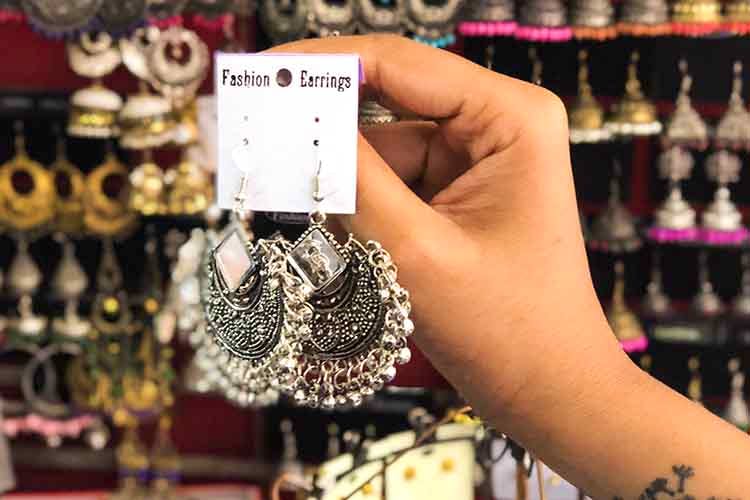 Chandbalis To Bunny Backpacks, We Found 8 Quirky Things At Sultan Bazaar, Under INR 400
With over a hundred street shops in the commercial area, Sultan Bazaar is one of the oldest markets in Hyderabad. Reigning as the place for fashion and decor goods, this 200-year-old bazaar is full of cheap thrills. Amidst the hustle and bustle of this street, we found plenty of attractive but super budget finds. Here's a list of everything from jhumkas to kurtis we wouldn't mind spending our money on; but thankfully they're all under INR 400.
Chandbali Earrings - INR 150
These metal earrings will go perfectly well with your casual kurtis or fancy lehengas. These crescent beauties come in silver and gold palettes, with mirrors and shiny stones.
Chinese Wooden Necklaces - INR 150
Bright in colour and funky in style, these beaded neck-pieces will add a quirk factor to your wardrobe. They are lightweight and fairly durable. Besides, they are super cheap.
Trendy Printed Kurtis - INR 150
Cotton kurtis, in colours both bright and understated, printed with patterns like that of the Buddha and Kathakali dancers will not fail to catch your eye.
Faux Leather Bags - INR 200
Have you liked the look and feel of leather but loved animals way more? Then these faux leather bags are going to be your best friends. They come in nude colours and make an excellent carry-on.
All Season Footwear - INR 100-150
From ballerinas to Kolhapuris, Sultan Bazaar has it all. Perfect for not just college but everyday work wear. You just need patience to spot them.
Bunny Backpack - INR 320
Made from cargo jeans material, this adorable backpack can be used for kid's picnics or if you wanna go all the way out with cute but bizarre fashion.
Glam Wallets - INR 300
Studded with (artificial) pearls and other stones, these wallets don't look any less glam than high-end designer bags. Grab one of these and flaunt them at the next party!
Photo Frames - INR 350
If you love taking a lot of pictures, you can frame them all using these intricate photo frames. These were found in a gift shop on the street, so don't hesitate to walk in to stores rather than just walking along the street.
Comments