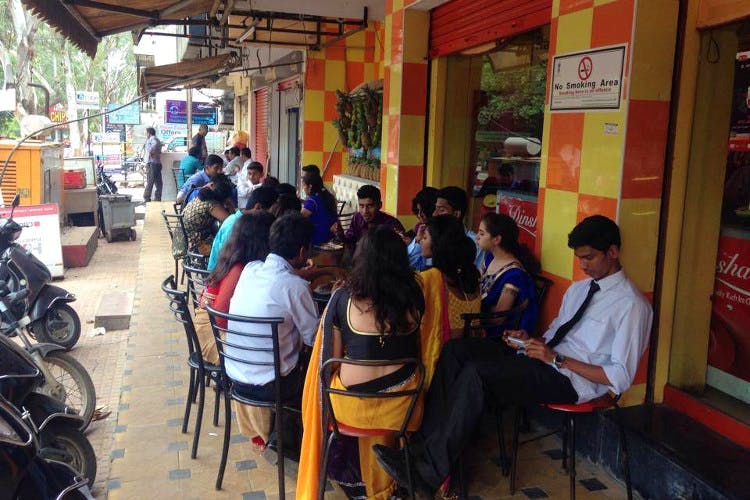 Want To Hang Out After College? These Budget Places Won't Leave You Broke
Students, we feel you when we look at exorbitant menu cards in cafes. They make us frown too. So here's a list of places that you can hit up on a daily basis to eat and chill with the squad, and not burn your pockets while you're at it.
Lamakaan
Popular among culture vultures and students alike, Lamakaan has been an adda to many batches over the years. There's always something new happening that you can be a part of or you can simply gather here to have samosas and home-style roti and khatti dal with your friends.
King And Cardinal Bakery
Meeting over quick bites? Then, King And Cardinal is the place for you. A hangout spot that is crowded with school and college goers from the area, it is known to serve some of the best burgers in town. Try their Veg Cheeseburger and butterscotch pastry, and we promise you will go back for more.
Yaariyan
Located in Abids, Yaariyan gets all the students to its yard with peppy ambience perfect for post-class bumming. It is a small place but the food is served in generous portions. Their Alfredo Pasta is oh-so-yummy and they have options from Grilled Sandwiches to Hong Kong Rice and Schezwan Noodles. Try it all, as it falls within a reasonable budget.
Here's What's Cookin'
Here's What's Cookin' is a basement turned into a cafe which has delicious oriental cuisine for astonishingly low prices. The colourful, but rustic interiors are appealing to college goers, and there are board games to play. So, go here to relax with your BFFs and relish their NYC Street Style Noodles and Choco Freak Shake, without having to splurge.
Fifth Avenue Bakers
Folks in Sainikpuri, you know how much students love Fifth Avenue Bakers. There's a rush here to grab seats as it tends to get super crowded. Puffs and plumcakes to spring rolls and pastries, no matter what your order, follow it with their sweet lassi.
Workaholic Work Cafe
This Jubilee Hills cafe is specially designed for students and workaholics, who like to work in peace. Go here when you have a group project that demands to brainstorm or simply when exams are around the corner and you need a quiet place to study. The food is pretty basic ranging from Maggi and sandwiches to muffins and donuts to eliminate hunger pangs.
Comments