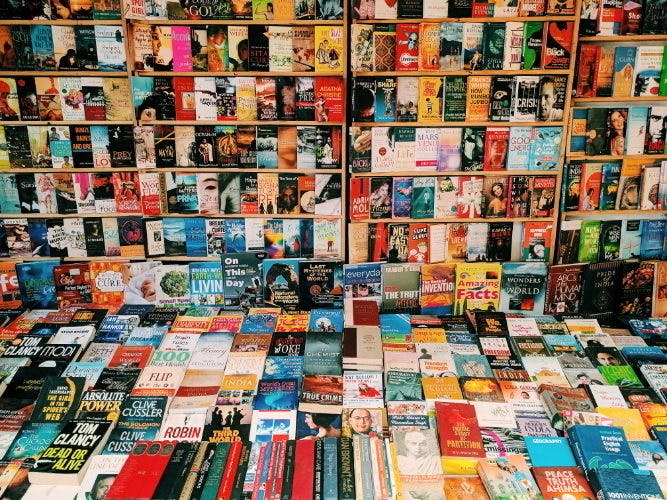 Holy Moly! What's Better Than Hitting Up This Book Bazaar On A Sunday?
Shortcut
The Sunday Book Bazaar at Abids is worth getting up early for. No really! With second hand books starting at prices as low as INR 10, you never know what you are going to find. But we assure you that you will go back with a huge bag of books.
What Makes It Awesome
The footpath stretching from Chermas, Abids towards General Post Office (GPO) is filled with activity. Not sparing a single Sunday morning, the book bazaar here stirs life into Abids which otherwise remains closed on Sundays. For years now, book-crazy folks have been visiting it for some serious hoarding of tomes. With National Geographic's hardbound magazines
dating back to the 70s and the 80s sold at INR 50 per copy, magazine collectors can go as much nostalgic as they want.
Some of these books are gems – Christian Dior's biography, Still, Life by Praneet Soi, Modern German Painting and Sculpture, Who's Who In The Theatre, Treasury of Stamps etc. are sold from INR 99. Latest trends like Rupi Kaur, Riverdale (INR 10) also share space with old goodies like Danielle Steele, Charles Dickens, Erich Segal. While most of these books are priced between INR 100 to INR 200, you can get a good bargain deal if you're purchasing more than two books from the same vendor. We also found plenty of books on advertising, political history, and art.
Now, these are really old books, so you might find a few loose pages here and there, but they are definitely worth getting home for the richness of information. Reader's Digest and National Geographic's paperback versions are sold at INR 10. If you're someone who likes their Tinkle (INR 10) and Archie Comics (INR 30), you can happily buy tons of these. Teenage choices like Sweet Valley High, Hanna Montana are found between INR 10 to INR 30.
We also found some personal favourites such as Yann Martel, David Grossman at steal-deal prices of INR 120 each. An extensive collection of comics also include Superman, Calvin & Hobbes, Asterix, Tintin. You'll also find the regular manga collections like Astro Boy, Sandland. Although the price of a book is mentioned on the first page, you can check with the vendor if it comes at a better deal.
Pro-Tip
Do get in before noon because most of the best books get sold by 12pm. Don't forget to carry some cash (and 10s and 50s) and walk into the Sunday sunshine. But don't forget to come back and tell us everything about what you scored.
Comments