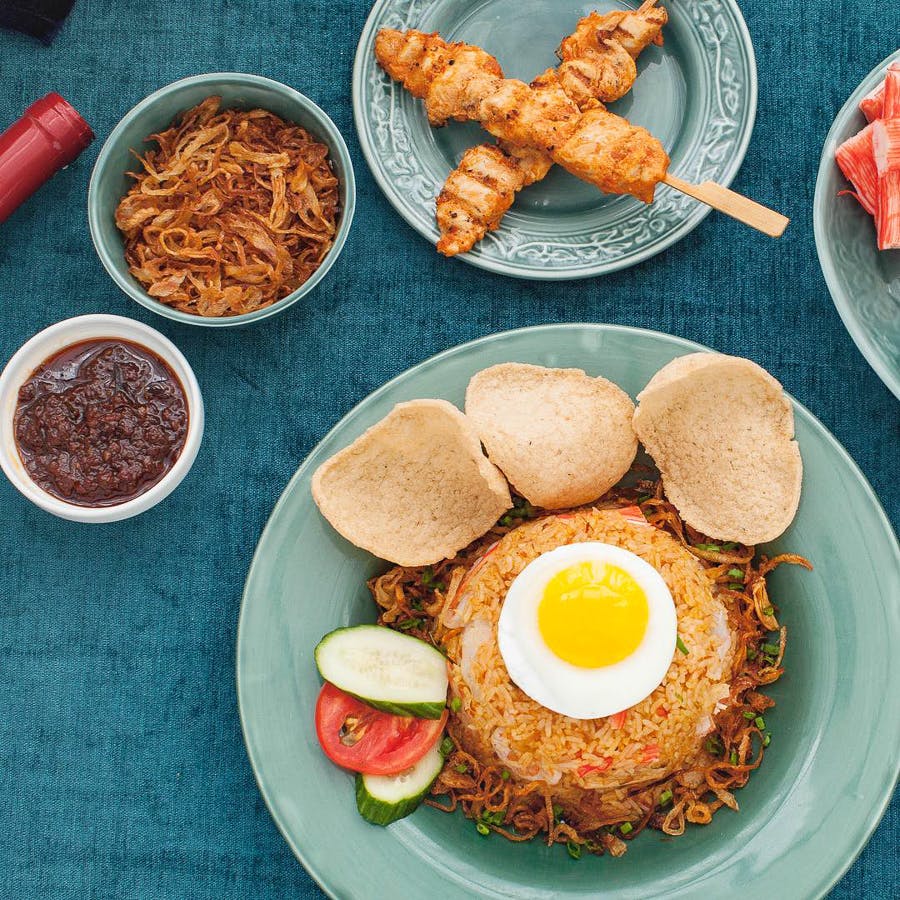 These Bottomless Brunches Will Sort Your Sundays
Let's face it – Sundays can be rather mundane and if you're stuck home, they cannot be more listless. The only motivation to get out of the bed (and your PJs), dress up in your best and strut out in style is a hearty Sunday brunch. Continental delicacies, loads of desserts, live music, and unlimited booze — here are the best Sunday brunches in Hyderabad.
Feast - Sheraton Hyderabad
Get your gastronomical mojo on at Sheraton's Sunday Brunch. With ample sunshine and live music, you're going to sign up for a long lunch. Make your own salad or tuck into various types of hummus and pita. You'll have a tough time controlling your craving with Gouda Cheese, bocconcini, and canapés around you. We loved Aglio Olio Spaghetti, lasagna, and ratatouille parcels. Pork chops on your mind? Ooh, there is so much for you to devour.

Little Italy
Ever wanted to make your own cocktails or mocktails? If yes, Little Italy should be your go-to brunch zone. This all-vegetarian restaurant offers everything from pasta to pizza. We love their assortment of hummus, salsa, dips that go perfectly with your nachos, pita, and bread. While here, you can also whip your own salads and canapes at their live counters. Be sure to end your meal with plenty of desserts or pancakes.
Jonathan's Kitchen
No brunch is as fun as the Jonathan's Kitchen's one. Bringing you the best of both worlds — ambience and food, this brunch is here to stay. With dishes like shawarma, Khao Suey, sushi and other global favourites, you'll never tire of the varieties for sure. Go here for the live music and the epic drinks, but also for the wine choices.
Fat Pigeon - Bar Hop
What's trending on the brunch block and we're crushing on right now is Fat Pigeon's Sunday Brunch where you can enjoy a non-alcoholic brunch at INR 950 only (the cheapest in town) and an alcoholic one at INR 1750-2150 (depending on your choice of alcohol). From continental to Indian to luscious kebabs accompanied with amazing music, this brunch is a blast!

The Fisherman's Wharf
Dreaming of Goa? Then find a slice of it in The Fisherman's Wharf. The Sunday Carnival Brunch, true to its name, is a fun extravaganza with a Goan band performing live music. Indulge in a delish spread of seafood while kiddies rush to the kids' park and gaming stalls. Right from face painting, flea market to an actual fish market, this brunch is a winner of hearts!
Exotica
Looking for unlimited Chicken Malai Tikka and beer? So are we, and we found some good stuff at Exotica. If charming interiors are what you want this winter, pick a cosy corner or go for their outdoor seating. Their Special Sunday Brunch offers a wide range of grills and kebabs and did we mention there's biryani too? Along with live stations and dessert counter, let's just say that your Sunday is all sorted.

The Glass Onion
The Glass Onion — a restaurant by Fusion 9 is tucked inside Boulder Hills and it overlooks the boundless golf course and the humungous buildings behind it. We know this is far away but their Sunday brunch totally warrants a drive to. From cold cuts to Italian dishes, go here to score great food and views. Plus, the cocktails are so good that you won't stop drinking even if Monday is a few hour away.

Heart Cup Coffee
Heart Cup Coffee in Kondapur hosts awesome Sunday brunches with live music. With beer, signature cocktails, infused cocktails, sangria, rum, gin, whiskey, and more, we cannot imagine the amount of fun this is going to be. Teetotallers can sip on tea, coffee, mocktails, and soda, but dishes like pizza, cheese platter, pasta, bruschetta are going to unite them all. The brunch is said to have plenty of live counters for egg delicacies, pasta, along with 11 types of main courses. While the liquid brunch costs you INR 1,499, if food is all you need (no alcohol), it sets you back at INR 599.
Mekong - Marigold Hotel
Tucked inside Marigold Hotel in Begumpet (one of the best hotels in the city), Mekong is a plush restaurant with wide French windows, dark wooden furniture, and quirky chandeliers that lit up the place beautifully. If you are all about tucking into Pan-Asian delicacies, Mekong's brunch is a hit! They serve up different types of Thai and Chinese curries that you can pair with noodles and fried rice. Chow down those dumplings, as you chug beer or wine. What a meal this is going to be!

Comments