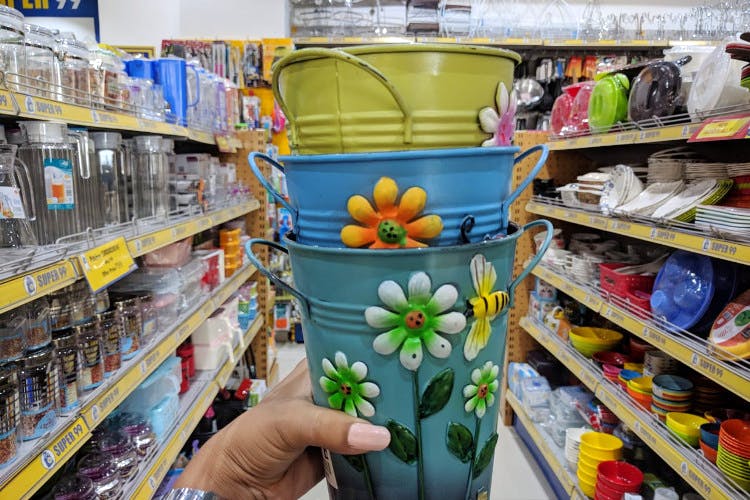 Got A Pinterest Fanatic Friend? Here Are 10 Things You Can Gift Them From This Store
We all have that one friend who decks up their home to meet Pinterest standards. Right from desk accessories to kitchenware, this friend spends hours on Pinterest and only then decides how to do up their home. Looking for gifts that look fancy but cost dirt cheap? We've discovered plenty at Super 99 in Inorbit Mall for nailing those Pinterest goals.
Flower Pots - INR 329
Say no more to regular mud pots and get these floral buckets that can be hanged in the balconies too. Priced at INR 329 each, these add a bit of colour to the garden area.
Pink Tumbler - INR 249
This glossy pink tumbler will not just keep your friend (and you) hydrated, it'll also look lit on your Instagram feed. Plus, it's sturdy enough too.
Kitten Hooks - INR 69
We all know hooks can look like crooks if they're plain, but these kitty hooks will keep that concern at bay. Priced at INR 69, these come in different designs too such as sunflower hooks.
Water Spinkler & Fan - INR 159
Summer might be far away but if you want your skin to stay fresh and hydrated, pick this Snoopy water sprinkler and fan. It's totes adorbs and looks like a fun toy too.
Pink Throw Rug - INR 499
This velvety pink throw has our heart and like us, if your friend likes to put a throw on the floor, this is your best bet. It's big enough to fit one person and maybe a laptop and costs INR 499 only.
Colourful Crockery - INR 59
Super 99 is full of colourful crockery right from bowls, kullads to coffee mugs and plates. We love this multi-coloured bowl which is priced at INR 59 (per piece), but the kullad is also pretty and is available at INR 19 per piece.
Lampshade - INR 349
While we found many lampshades, we love this crescent moon-shaped one which will definitely add all the cuteness to a bedside table.
Alarm Clocks - INR 299
Whether you want an old-fashioned alarm clock (in bright red) or T-shirt shaped wall clocks, there's plenty. We personally love the alarm clock for nostalgic reasons.
Flower Vases - INR 349
Although these flower vases don't have real flowers, they make for dainty home decor accents. They come in different colours and sizes, but our heart's been captured by these orange and yellow ones.
Cat Tote Bag - INR 499
If your friend hits up the local market often, this shopping tote bag is just perfect for her. It's spacious enough to store a lot of items and comes in different colours and designs too.
Comments