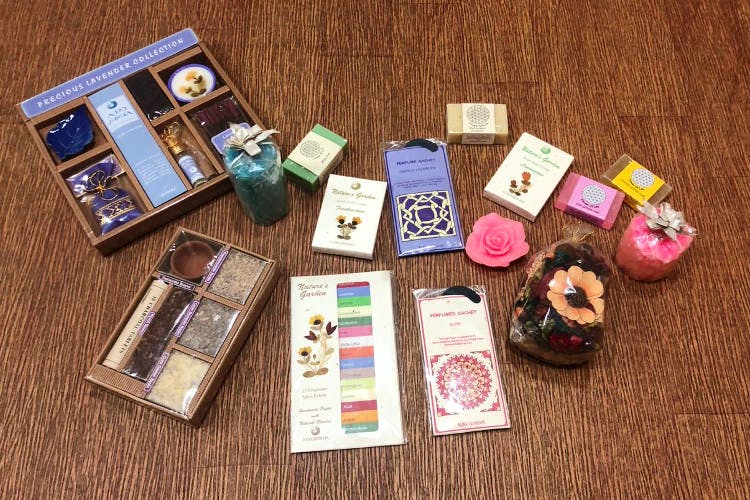 Charcoal, Cherry & Daffodil: Get Unique Soap Bars, Oils & Face Packs For Just INR 45
Shortcut
Ditch your regular soap, and try out the fancy soaps at Swati Soaps that come infused with floral and fruity elements. Make every bath a pampering and luxurious affair.
What Makes It Awesome
Swati Soaps in Banjara Hills is a modest store with a range of products from natural soaps and essential oils to incense sticks and bath and body gift sets. The natural soap bars come in flavours that you might have never even thought of, like cucumber, ginger orange papaya, grape, charcoal, and mango. We found flower and fruit glycerin soaps with fragrances that can win over your senses. Regulars like the rose, jasmine, lily as well as marigold, and lavender soaps will make you smell oh so good! If you like your soaps to come in fun shapes, get a baby foot shaped or flower shaped soaps too. They also experiment with a lot of natural oils and colours to make novelty soaps (which we bought 3 of!) that are not just aesthetic but anti-bacterial and suitable for all skin types. Besides, these soaps are affordable at prices starting from INR 45.
In addition to these, you will find concentrated essential oil samples in case you want to test them and make bespoke flavours. You can also turn to this store for gifting during festivals. They have kits of Terracotta burners, charcoal tablets, gum benzoin raisins coming straight from Auroville, sandalwood incense sticks and cones, handmade paper lanterns, scented candles, room fresheners, and herbal face packs.
What Could Be Better
We think that the scented candles and perfume sachets could use some variety.
Pro-Tip
Mr. Murthy, who owns the store is super knowledgeable about the art and chemistry of soaps. So, converse with him and we're sure you won't regret it. Also, sometimes the brand identifies as Flower Of Life/Quintessential Soaps so don't get confused.
Comments