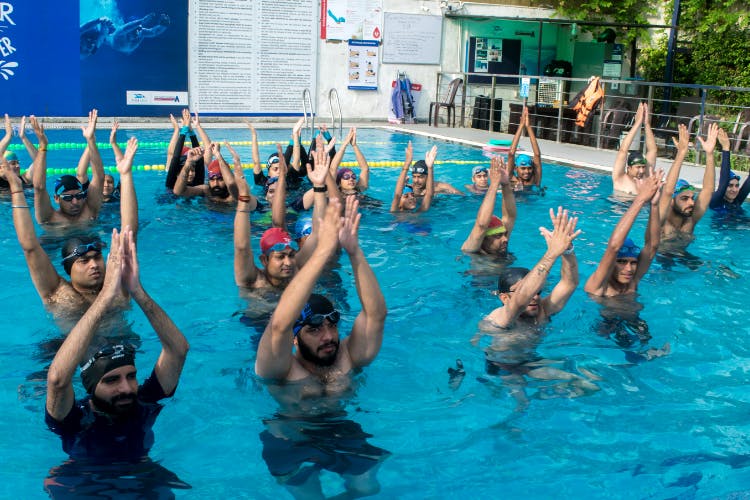 Fitso Seals Swimming Pool In Hyderabad Is Giving Us Swim-Goals And Here Is Why!
Looking for affordable pools to cool it off in this summer heat? We have found you Fitso Seals' premium swimming pools in Madhapur and we're already planning to chill out there with our friends there. Here's us giving you all the reasons for getting a membership there too.
Never Too Late To Learn
There is no activity as timeless as swimming, whether you're sweet-16 or classic-50. For us it is the summer beer-belly that we want to work on, and we are totally enrolling in for the training sessions at the Fitso SEALs swimming pool. Calling out to the hydrophobics, these swimming sessions are also perfect to overcome your fear of water. Moreover, the Fitso NIS certified coaches provide special training sessions tailor-cut to our swimming skills and motives. How cool is that?

All-Season Indoor Heated Swimming Pool
Are we dreaming? While the summer season is taken care of, we can now even swim comfortably during the moderate winter season. Isn't that exciting? An exclusive training session is provided at these all-weather controlled pools for the kids, with separate sections for men and women. Are we not already in a swimming-spa mode for the upcoming cold weather? Yasss!

Hygiene For All Your Pool Dreads
Do you also fret about hygiene issues in the pool? Worry not as this one ticks all our columns such as unnecessary germs floating around keeping you at bay with infections. Fitso SEALs holds special facilities for the regular cleaning of the pool and maintenance of pH level so that you can enjoy your time without having to worry about anything!

Easy On Pockets
Scoot over all the expensive pool memberships and training sessions. The Fitso SEAL's memberships and training sessions come at harmless costs starting at INR 2000 per membership and no-cost EMI options. They provide NIS and STA UK certified coaches with a premium pool experience at a cost that is simply worth it!

Family Friendly
What is more important in order to enjoy a swimming session is to be in a safe and CCTV covered environment along with lifeguards. Take a deep breath because the facilities are friendly of security and safety. There are coaches and lifeguards at all times to avoid any mishaps. Purfecttt!

So, We're Saying…
Don't sweat it out in boring workouts, enroll at Fitso and dive into the pool for that perfect workout without sweating it out. Moreover, Fitso is coming up with myriad more activities country-wide. Looks like the perfect win-win situation, right?
We have something exclusive for LBB users: Use the code LBBSEALS to get a free trial session at Fitso. Stay tuned to Fitso Instagram and Facebook for more updates!
Comments