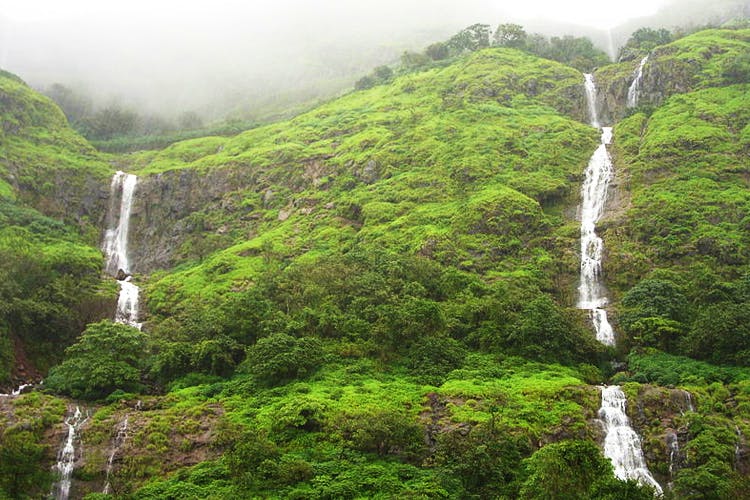 Less Explored & Boundless Greenery: Plan An Escape To These Ghats Near Pune
Shortcut
Known as a popular monsoon getaway, Tamhini Ghat is a mountain passage located just two hours away from Pune. Got a long weekend? Get on a Shatabdi in Hyderabad, get to Pune, and drive to Tamhini Ghat, which is one of best tourist spots in Pune.
What Makes It Awesome
A trip to Tamhini Ghat legit reminds you of those picture books from school. Remember all those dark greenish mountains and cascading waterfalls? Yup, Tamhini Ghat is all that and more. Say hello to misty mountains and don't you forget to capture those waterfalls on your way. The clouds are so low that you can picture yourself driving (and dashing) into the clouds. As if that's not exciting enough, you can spend an entire day trekking and exploring the ghats to discover where the waterfalls begin or end. Good luck with that, but don't let that take you away from staying still and observing the beauty of the hills around you. Spend some time gawking at Mulshi Lake and head over to Palase Waterfall where you can take a plunge into the icy cold water. The view from the waterfall looks spectacular, and your camera is going to do no justice to the sight. Done exploring? Tuck into hot Maggi, pakodas, or vada pav at one of the many restaurants or dhabas scattered around the area. If you are in or around Pune, you simply cannot miss this tourist spot.
Pro-Tip
You don't really need more than a day to explore this ghat, so you can head back to Pune for the night.