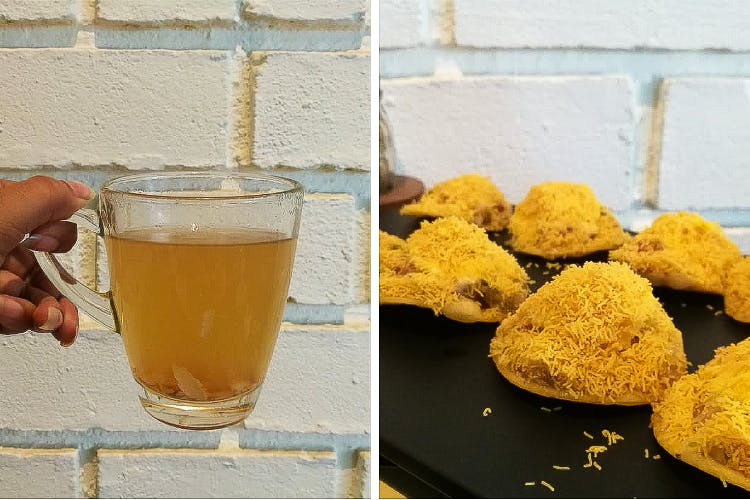 Go For The Kashmiri Kahwa & Stay For Chaat Papdi Shots At This Eatery
Shortcut
Craving some chai on a Friday evening, we visited Tea Halt in Jubilee Hills, which is known for its chai breakfast. What did we love and what did we not? Let's find out!
What Makes It Awesome
With tea cafes mushrooming like coffee shops, we know Hyderabad isn't one to shy away from chai and its many variants. Tea Halt is one such cafe that hangs on to traditional chai while also offering chamomile, lemon black, jasmine green. We asked for Turmeric Chai, Kashmiri Kahwa, Pizza Samosa, and Chaat Papdi Shots. As we waited, we checked out the ambience of the little place which had quirky elements like a lamp post, graffiti of Hyderabad and quotes on its walls. The outdoor seating, although limited, offers a view of the streets, but it can get quite noisy during the peak hour traffic.
The turmeric chai arrived in a kullad, and it tasted a lot like a regular sugary chai but with a hint of haldi. Haldi doodh lovers are sure to love this. The kahwa was aromatic, refreshing, and we loved the subtle flavour of chopped almonds in it. The pizza samosa ran a little too dry for our taste but the chutney it was served with tasted just about right, repairing whatever damage the samosa caused. In the end arrived a plate of chaat papdi shots, which is basically papdi served with a twist of sweet, tangy, and sour flavours. So, the next time you're looking for a chill place to hang with your friends, get here.
What Could Be Better
Although we like the silence at the cafe, we'd love some slow music. (Or erm....any music!)
Comments