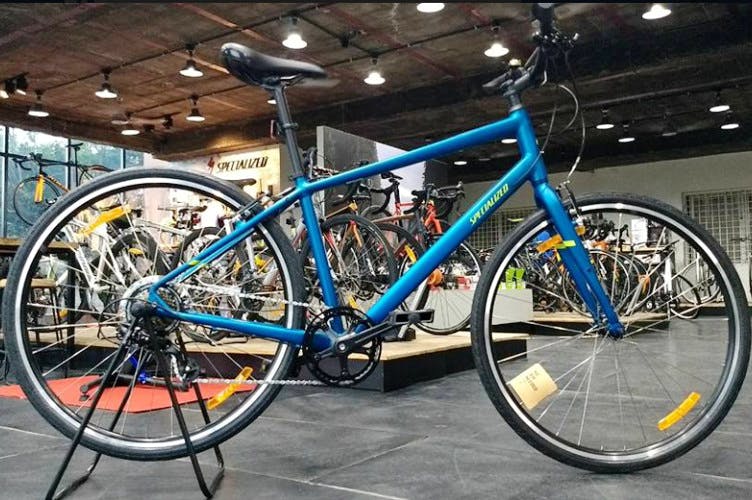 Go On A Pedalling Escapade By Getting A Cool Bike From This Store
Shortcut
Ditch your cars, motorbikes and take a bicycle from The Bike Affair for a ride around the city. This store not only lets you rent/buy bicycles but also houses professional biking gear.
What Makes It Awesome
Looking for a fun road to fitness? Get to The Bike Affair in Kondapur and get yourself the perfect bike. Their showroom has various brands of bicycles like Merida, Felt, Kona, Fuji, Focus, Surly and Astr for you to browse through, understand and test. Being passionate cyclists themselves, the founders (Gokul Krishna & Krishnendu Basu) share not just specific information about these bikes, but also encourage you to take up cycling as a lifestyle. You can take these beauties on rent for substantial rates where you get to know if a certain model works for you. This helps you in making informed decisions.
Realising the gap between recreational biking trend in other parts of the world/country and in Hyderabad, The Bike Affair aims to make cycling cool again. So, they also organise weekend bicycling events where new-bees and adventure seekers can join in for a thrilling community experience. Cycle in and around beautiful locations like KBR Park, Ameenpur Lake, Golkonda Fort in the misty mornings, or go on longer trails like Ananthagiri Hills and Pargi Hills as well.
Better yet, is the fact that the participation in these is absolutely free of cost (unless you are renting one of their bikes) or you can get your own bicycles too. They also have trendy biking apparel (helmets, shorts, shoes, gloves, socks, jackets) and accessories (saddles, headlights, locks, mini pumps, mudguards, grips, trainers, bike bags).
The bikes are priced INR 23,000 upwards and come with 6 months of a free service period.
Pro Tip
To help you maintain your cycles in top condition, they also do repairs like drain train, tune up, among other miscellaneous services.

Comments