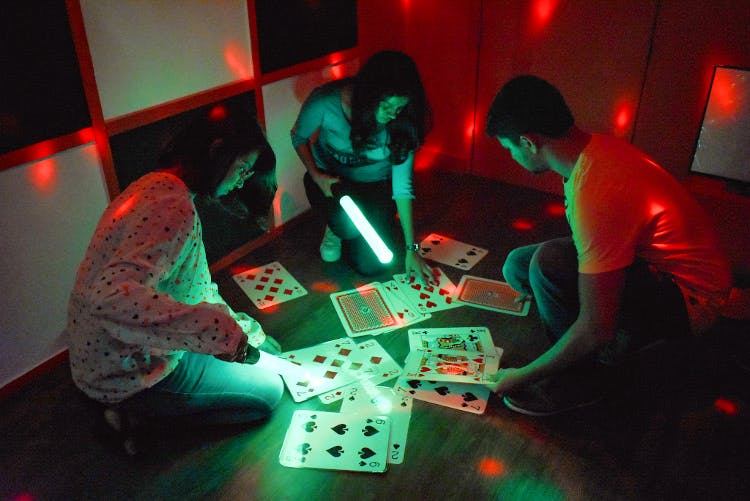 Go On Exciting Missions Diffusing Bombs & Finding Treasures At This New Escape Room In Town
Shortcut
Feel like Sherlock Holmes, and discover a new world like Alice did at The Hidden Hour in Jubilee Hills. Go with your cronies to enjoy the adrenaline rush, the thrill of the unknown, and grab some medals.
Great For
Parties, Double Dates, Team Building
What Makes It Awesome
The Hidden Hour is a mystery game space that will have you thinking on your feet — deducing clues and testing your hunches. If you've grown up wanting to solve mysteries like the Famous Five or loved True Detective & Sherlock, you can live your fantasies here. They currently have three missions on the themes of horror, treasure hunt, and bomb diffusal. We hear that an island-themed mission will be open soon as well. So, put on your thinking caps, and compete against each other, or play as a team to solve the task on hand, and escape the room. The catch is that you have only an hour to solve it, and extra time costs extra bucks.
The intimate setting with the mood on point makes for an engaging experience, and the clues really are twisted. They have various packages if you're booking it for a birthday party or for a team building activity with co-workers. They modify the game according to the group size and age to give you the best experience. So, we say take your pack of four or more (Between the age of 8-60 years) players and indulge in this one-of-a-kind experience in the city. We know we had a blast, not just playing the game but posing with quirky props at the photo booth after.
What Could Be Better
The prices are on the expensive side starting at INR 600 per person, per session (For a group of 4 or more, on a weekday) but the experience is worth it. We also wish there was a mini-cafe where we could chill and grab quick bites after the game