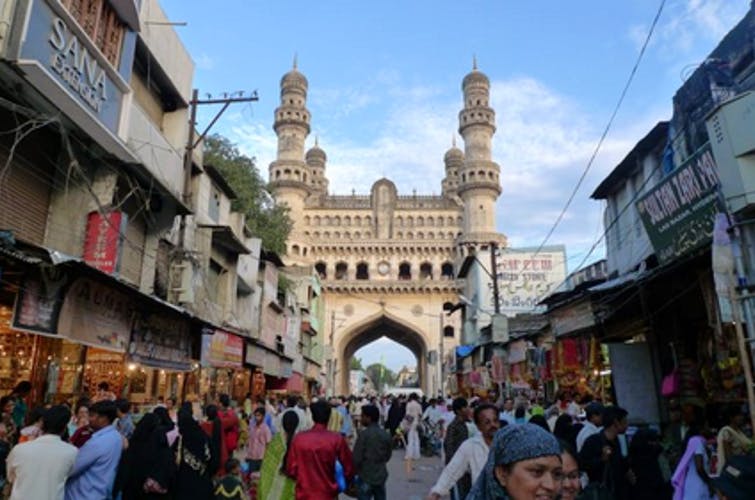 Are You Even A Pakka Hyderabadi If You Haven't Done These Things?
You know you are a pakka Hyderabadi if you believe in the power of biryani. But what if we say you need more than an obsession for biryani to be a pakka Hyderabadi? So, we've made a list of things that every Hyderabadi might have done (and love doing). How many of these have you done?
Midnight Drive To Charminar
Charminar is arguably at its prettiest during the nights, and if you haven't driven to Charminar beyond the Cinderella hours, you're missing out. Like on a lot. The streets are almost desolate but you'll find street vendors making
kebabs
, fish fry,
falooda
, and food lovers usually enjoy hogging at this hour as they can score the best views of Charminar. Plus, if you saunter around till 4am, your first cup of Irani
chai
at
Nimrah Cafe
is an amazing start to the day.
Watch First Day First Show Movie At RTC X Roads
If you haven't bunked college to watch a first-day first show of your favourite star, you really need to go back to college. While there are several movie halls at RTC X Roads, Sandhya 70mm is where even celebrities watch their movies on the first day of the release. It is said that the stars come here to experience the reaction of the crowd, first-hand and the success of a movie can be easily decided by these reactions alone. We've experienced quite a madness here.
No Matter What Celebration, Biryani Is Bae
Biryani is quite literally a celebratory dish — whether you've just graduated or gotten a promotion, heading to Bawarchi or Meridien with your group of friends might be a norm. Since Bawarchi serves huge portions of biryani at pocket-friendly, it's perfect for college students.
Grew Up Shopping At Chermas & Funtoosh
Does the mere mention of Chermas or Funtoosh drive you down the memory lane? Growing up, all 90s kids turned to Chermas & Funtoosh for not festival shopping but also casuals. Back then, it was the only store that loaded up on branded denim and jackets.
Boat Ride To The Buddha Statue
Weekends were clearly meant for Hussain Sagar and although it's super polluted now, we enjoy our evening walks and boat rides every now and then. The boat rides to see the
Buddha Statue
up close are definitely our childhood favourite, and they get even better during the sunset.
Go For Dates In A Mall
Millennials in Hyderabad obviously love going for dates in shopping malls. And if you're a youngster who just started dating, we're sure you love hitting the mall with your SO because all the entertainment you can ask for is packed under one roof. Inorbit Mall tops the list, and if you haven't gone on a date to this mall yet, are you even a young Hyderabadi?
Take Breaks For Irani Chai & Osmania Biscuit
Come 4pm, and everyone plans to take a really long break from work to visit their closest tea shop for Irani chai and Osmania biscuits. Whether you work out of Hitech City or Sainikpuri, chai breaks are your ritual. Agreed?
A Movie At Prasads Large Screen
Did you weep in the dark when you heard Prasads is no longer IMAX? We sure did. If you call yourself a Hyderabadi and haven't watched Batman or Interstellar or any movie of your choice on IMAX screen, we are judging you. You can still make up for it by watching a movie on Prasads Large Screen. Sure, it's not IMAX anymore, but it's still awesome.
Comments