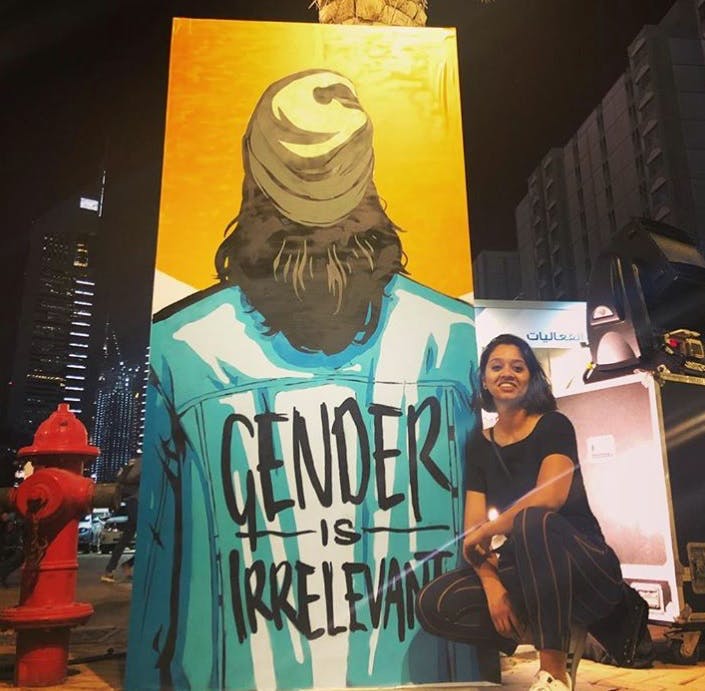 It's An Art Attack! 10 Artists Worth Checking Out In Hyderabad
"But Hyderabad doesn't even have so many artists" — this is something we hear often, especially when we're traveling to other states in India. While the art scene might not be huge, thanks to a few, we're slowly getting there. From working with Netflix to hosting doodle bootcamps in other cities, here's a list of top 10 artists in Hyderabad who are worth checking out.
Sri Priyatham
Sri Priyatham is your boy-next-door, pop-culture geek, a TED speaker who happens to moonlight as an artist. But for the most part, he is a trained artist who graduated with a degree in illustration. He was the only Indian (and one of the few in the world) chosen by Netflix to collaborate for Stranger Things 3. He can illustrate your favourite portraits or even turn them into caricatures. The pricing is usually between INR 5,000-INR 25,000 and he takes anywhere between 3-10 days. He also hosts workshops across the country.

Marzia Ali
Marzia Ali is probably one of the first artists LBB, Hyderabad collaborated with, and her workshops are always a blast. Marzia has been making art ever since she was a child but on a professional level, she began when she was 16. She hosts 2-3 workshops a month, and she enjoys exploring and experimenting with different art forms. She is a pro at watercolour, acrylic, oil, resin, fluid art, calligraphy, and alcohol ink art. Her pre-made creations usually cost you INR 500 upwards and they can go upto INR 1 lakh. But if you're planning to get art customised, the price range begins at INR 10,000. She is also the founder of The Duende Box — a subscription box for art supplies and OG art pieces.
Tejo Guna
Tejo Guna is making doodling all the more fun. As an architecture student who turned into a professional doodler, Tejo has taken his bootcamp to various cities like Mumbai, Bengaluru, Chennai. In Hyderabad, his workshops are always packed and through his workshops, you get to learn the basic techniques of doodling and doodle to relax as well. Plus, his Instagram profile is so interesting that we cannot stop looking at it.
Sravani Mustikovela
Sravani Mustikovela runs Palette Hues which is all about abstract art. She is a pro at creating textures and patterns which are done using knives, sponges, and wedges. Spot bright colours and vibrance beaming at you and if you're planning to load up on these, allow us to tell you that your room will be lit up. Her art is also inspired by the traditional ikat and Kalamkari style. The price range of her artwork begins at INR 250, and it can go up to INR 3,000.

Aditya Chilumula
Aditya Chilumula, who also goes by the name, The Onyx Method creates visual delight...we mean charcoal art. As the co-founder of What The Art (a podcast), you'll find him hosting the show, conducting workshops in Hyderabad and other cities. He is quite active in the artists' community, and if you are an upcoming artist, we recommend hitting up one of their meetups (or just listen to his podcast). This engineer-turned-artist sells his original artwork at INR 3,000 upwards. But his prints are otherwise priced between INR 500-700.

Amrutha Routhu
Cannot get enough of Zentangles and Mandala Art? You've got to hit up Amrutha Routhu's workshops, fo sho. Although Amrutha is an engineer by profession, she hosts a hoard of lovely workshops where you can learn how to doodle or make mandalas. Off late, she has been making galaxy paintings, and if you're interested in picking her art, they'll set you back between INR 1,500-2,000.

Chandni Mathur & Nikhil Kapur
It's almost impossible to talk about the art scene in Hyderabad without talking about Chandni Mathur & Nikhil Kapur — the Hoozinc duo! Whether it's the walls of popular pubs or hosting the coolest of art events in Hyderabad, Hoozinc is definitely behind. They've got a super cool store in Hyderabad where you can grab all things pop culture. If you're looking for quirky merch, go there but if you're looking for murals and art installations, this duo has to be your go-to.
Bushra Ashfaq
Bushra is a 21-year-old artist and a Fine Arts student. Her work is quite intriguing and she works on digital portraits, character design, concept art, illustrations along with watercolours, food illustrations, floral patterns, and floral cards. One look at her Instagram profile, and we're hooked to the details. And if you're planning to buy her artwork, she sells her pre-made work at INR 210 upwards. You can also commission her for floral cards (INR 500 upwards), and for digital portraits and character design, the cost is anywhere between INR 1,700 to INR 3,000.
Rahul Dev
Rahul Dev is a 26-year-old artist who runs Unhinged Customs and he handpaints shoes that are totally worth owning! Whether you are a 90s kid craving some Pokemon on your Vans or a DC Comics' follower who always wanted Batman on his Converse, Rahul hand-paints them for you. Priced anywhere between INR 4.7K-15K, this includes the shoe cost (Vans or Converse) and shipping charges.
Ruchit Zain
Ruchit, who runs Abused Ink, is yet another artist who adds wings to one's imagination. No, we mean literally. Popular for his Instagram-worthy wings on the wall, he does wall art, murals, installation art, and more. You can commission him to transform your personal space or office. That said, some of the most popular gyms, cafes, and pubs have his art on their walls. Psst. he can also custom paint your shoes!
Comments